Does your upper lip disappear when you smile? Have your lips slimmed with age? Do you feel like your smile is all gums? If you answered yes to any of these questions, you might be interested in lip-enhancing cosmetic procedures, including dermal fillers or botox injections.
If you want to add volume to your lips while maintaining a completely natural look, the Botox Lip Flip could be the right choice for you.
What is a Botox Lip Flip?
Botox Lip Flips are quick, non-surgical and a temporary cosmetic procedure designed to plump and enhance your upper lip. The process involves a medical professional injecting botox into your upper lip and the corners of your mouth.
These injections relax the muscles around your mouth, causing your lips to curl slightly and revealing more of the lip's surface. This not only helps to cover more of your gums but can make your lips look plumped and voluminous.
Benefits of A Botox Lip Flip
There are many benefits to receiving a Botox Lip Flip. Here are a few reasons why you should pick this treatment:
The Botox Lip Flip is one of the safest cosmetic lip treatments.
The effects are temporary
It's FDA approved
You can notice results in as little as 3 days
It appears in over 500 clinical studies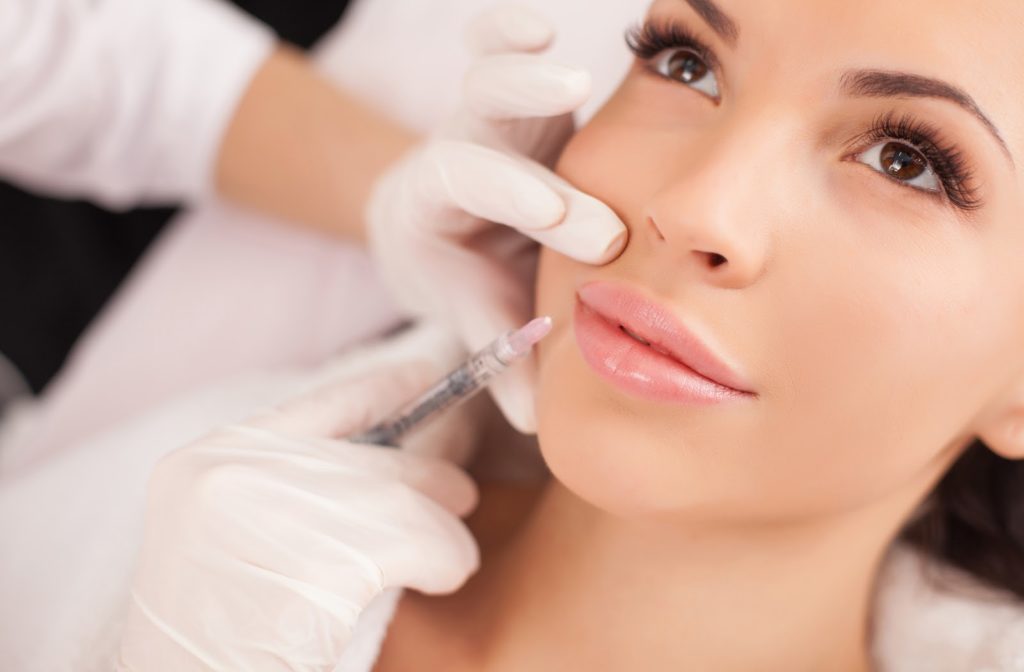 How Does it Work?
While you may have heard of Botox for minimizing the effects of ageing, Botox can also be a subtle, temporary solution to thin lips.
Botox contains botulinum toxins, which are naturally occurring neurotoxins that can paralyze muscles temporarily. With a Botox Lip Flip, a medical professional will make several strategically placed injections along the upper lip.
This process only takes a few minutes and is relatively painless. Patients usually see full results in several days, and the results can last a few months.
How Is a Botox Lip Flip Different From Lip Fillers?
Unlike a Botox Lip Flip, the lip process of a lip filler includes injecting substances, like hyaluronic acid, into your lips to increase their size or modify their shape.
On the other hand, a Lip Flip is a simple injection of botox, which is less invasive and has a more subtle effect. Lip fillers last much longer than Botox, but some people prefer the more natural look of the Botox Lip Flip.
As both are safe, the decision really comes down to how dramatic you want the change to be.
Are You A Good Candidate For a Lip Flip?
You may be a good candidate for a Lip Flip if you:
Want fuller lips but do not want to get lip fillers
Suffer from a gummy smile or a thin upper lip
Have lines around the mouth that are appearing with age
Are interested in a temporary solution
What Happens During a Lip Flip Procedure?
The Botox Lip Flip is a fast and easy procedure that can be done in under 30 minutes, leaving your lips looking full and soft.
Before the Procedure
There are certain things you'll need to avoid for a few days before your procedure. To prevent excessive swelling, it is best to avoid alcohol and blood thinners for 3-4 days before your appointment.
During the Procedure
The Lip Flip procedure is generally pretty straightforward. Here is everything you need to know about the procedure itself:
Your doctor or nurse injector generally won't use numbing because the procedure is relatively painless
Your doctor or nurse injector will administer the Botox to the centre of the lips and corner of the mouth through several injections
The procedure can last up to 30 minutes but usually takes around 10 minutes to complete
After the Procedure
Although you'll most likely be able to resume everyday life after the procedure, some patients report numbness and swelling. For optimal results and to decrease swelling, you should avoid:
Smoking for 3-4 days after the procedure
Touching your lips until swelling and numbness subsides
Sleeping in a position where you put pressure on the lips
How Long Do Results Take?
One of the many benefits of the Botox Lip Flip is that you can see results quickly. Most patients will see the full effects of the treatment within 14 days of the procedure, with the effects lasting 2-4 months.
Potential Side Effects
Potential Side Effects of the Botox Lip Flip include:
Drooling or trouble keeping fluids in your mouth
Trouble saying certain words
Trouble spitting or whistling
Drooping on one side of your mouth, similar to the appearance of a stroke
In rare cases, you may experience some more severe side effects. If you experience any of the following symptoms, contact your doctor:
Trouble swallowing
Slurred speech
Difficulty breathing
Blurred vision
The Takeaway
The Botox Lip Flip is quick, easy and relatively painless. It is an excellent option for those looking to boost their appearance without making a permanent change.
If you are interested in the Botox Lip Flip treatment or have any questions or concerns, contact us today!