What Treatment is Right for Me?
Every person is different, but everybody deserves a level of care to help them feel healthy and manage the risk of potential health issues. Proper healthcare starts with addressing your unique, individual needs.
At Zulu Medical, we're here to provide bespoke treatments designed for your body by combining the most advanced proven technologies available on the market to help you achieve your desired results. We can combine, customize, and adapt your treatments to your needs as they change.
All you have to do is request a consultation, and our team can handle the rest.
Treat Excess Fat & Loose Skin
Losing fat is difficult. As a result, many people focus so heavily on weight loss that it never occurs to them what their skin will look like once they're finally rid of the excess fat.
TightSculpting® is a unique, non-invasive procedure that eliminates excess fat and rejuvenates your skin, all without surgery. The result is a more toned and defined body that you're proud to show off.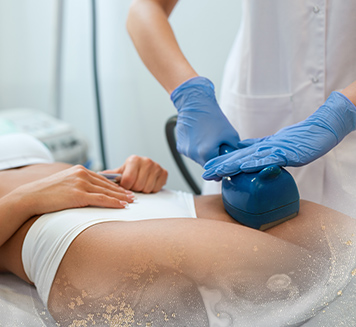 What is TightSculpting®?
TightSculpting® is a laser treatment that helps eliminate excess fat. Unlike other fat treatment methods, TightSculpting® has the added benefits of tightening loose skin and reducing cellulite.
How Does TightSculpting Work?
TightSculpting® uses a two-pronged approach by treating both excess fat and loose skin. With the use of a laser, TightSculpting® works first to treat any excess fat, then works to treat excess skin from the fat loss.
In the first stage of your treatment, we will use a laser with a special pulse mode to reach fat cells deep under your skin. The laser uses thermal energy to damage fat cells without doing any damage to your skin.
Next, we'll use a laser on your skin to stimulate collagen production. The increase in collagen will help restore some of your skin's elasticity; making it feel smoother, firmer, and tighter.
What to Expect From TightSculpting
Because TightSculpting® is non-invasive, you will not need any downtime after your procedure. While everyone experiences the treatment differently, you will most likely experience little to no discomfort. Any minor redness or swelling that appears after treatment will dissipate within a few hours.
You will likely require multiple treatments to get your desired results. However, some patients are satisfied after a single treatment. You will most likely notice an immediate tightening or firming of the skin. Over the following months, you will see the treated area start to contour as the body metabolizes the dead fat cells.
Frequently Asked Questions
Who Will Be Performing the Treatment?
TightSculpting® is performed by a Certified Laser Technician.
What's the Difference between CoolSculpting® & TightSculpting®?
Both treatments can help eliminate stubborn fat pockets, but they are fundamentally different. CoolSculpting® uses cold to freeze fat, while TightSculpting® uses heat. In most cases, TighsSculpting requires more treatments than CoolSculpting®, but TightSculpting® has the added benefit of tightening loose skin while reducing fat.
How Many Treatments Will I Need?
Most patients need 8 treatments to achieve their desired results. You must wait 2 weeks between each treatment, and each session is 20–60 minutes. You may require maintenance sessions after your initial 8 treatments if you gain weight.
What Are the Side Effects?
You may experience some redness and light sensitivity directly after treatment. It's important to avoid sun exposure for at least 5 days after each treatment session, and wear sunscreen for the duration of your treatment.
What Precautions Should I Take after Treatment?
After each treatment session, you should:
Avoid sun exposure 5 days before and after each treatment.
Use sunscreen whenever you're outside.
Wear compression garments on the treatment area for the duration of treatment.
Consume a low carbohydrate and low-fat diet.
Do 15 minutes of brisk exercise (ex: walking) directly after each treatment.