Reduce Fine Lines & Wrinkles
For many people, facial lines and wrinkles are a source of insecurity. Zulu Medical Cosmetics aims to erase those insecurities through our neuromodulator wrinkle treatments.
Contact us for a consultation to find out if these treatments are right for you.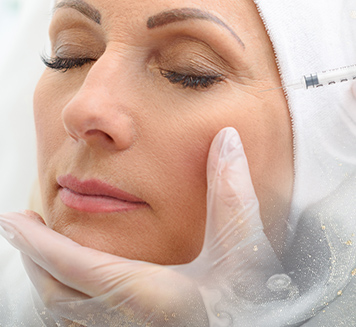 What Can Neuromodulators Do for Me?
Neuromodulators have been approved for a variety of cosmetic and therapeutic uses. Whether you're interested in enhancing certain features or finding relief for certain conditions, these injections could work for you. Neuromodulators can also help with conditions like TMJ (jaw pain) and hyperhidrosis (excessive sweating). 
Cosmetic Uses
Forehead lines

Glabellar lines (between the eyebrows)

Crow's feet
Therapeutic Uses
Jaw tension/ TMJ

Hyperhidrosis
What Can Nuceiva® Do for Me?
Nuceiva® is a strictly aesthetic formula. This product was designed exclusively for cosmetic purposes, particularly to reduce the appearance of lines and wrinkles on the forehead and between the eyebrows.
Frequently Asked Questions
Depending on the type of neurotoxin used patients see results within 3-14 days.
Are Neurotoxins Permanent?
None of these treatments are permanent. Neurotoxins get metabolized by the body after 3 months. You will require a re-treatment of neurotoxin every 3-4 months to keep you looking refreshed and wrinkle-free.
Who Will Be Performing the Treatment?
You can book with Cosmetic Physician Dr. Jeane´Lombard or any of our cosmetic nurse injectors. All of our injectors on our team are artistic, skillful and highly trained.