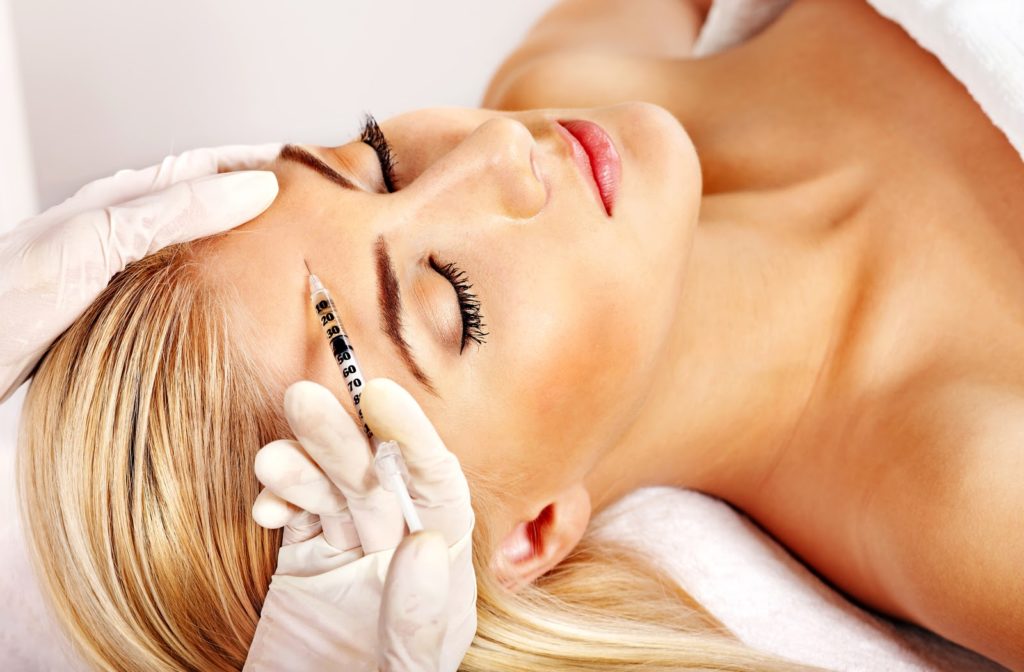 What is Nuceiva All About?
Nuceiva is commonly known as Jeuveau in the United States, an anti-ageing injectable solution that can significantly reduce the appearance of lines in the forehead. Nuceiva is a neurotoxin derived from the Clostridium botulinum bacteria, a bacteria that can cause botulism in large doses.
However, in small doses, the bacteria is used to make botulinum toxin type A. The toxin prevents muscle contraction by blocking the release of acetylcholine in the neuromuscular synapses.
Nuceiva was approved by the FDA for human use in 2019, making it a safe and effective way to reduce lines between the eyebrows and enhance your appearance.
Evolus and Clarion Medical Technologies came together to produce the toxin and have since worked hard to ensure the solution is made using the latest proprietary technology and sold in planet-friendly packaging.
Nuceiva, also nicknamed Newtox, is the first neurotoxin to be approved for wrinkle treatments by Health Canada in over 20 years. This product was designed exclusively for cosmetic purposes, particularly to reduce the appearance of lines and wrinkles on the forehead and between the eyebrows.
What is Nuceiva Used For?
Nuceiva is used to block muscle contractions that cause lines in between the eyebrows, called glabellar lines. The full indication for the solution is "for the temporary improvement in the appearance of moderate to severe vertical lines between the eyebrows seen at maximum frown (glabellar lines) when the severity of the above facial lines has an important psychological impact in adults below 65 years of age."
How is Nuceiva Administered?
Nuceiva is administered as an injection into the muscles that contract and cause deep lines. Your healthcare provider will recommend an appropriate dose and frequency of treatment to ensure you receive the desired results while minimizing the risk for adverse side effects.
The professional administering your injections will ensure you are suitable for the treatment before receiving it. You shouldn't get Nuceiva if:
You are allergic to any of the ingredients in Nuceiva
Have had a previous allergic reaction to other botulinum toxin products
Have a skin infection at the planned injection site
The certification for Nuceiva is the same as Botox training, although it helps individuals planning on administering the drug to become more comfortable with it. Certification is required to administer Nuceiva or any other neurotoxin.
Whenever you're getting injections, no matter which type, it's important that you see a qualified doctor or cosmetic nurse. They will be able to determine whether an injection is right for you and prescribe the correct dosage.
Nuceiva, Botox, or Dysport?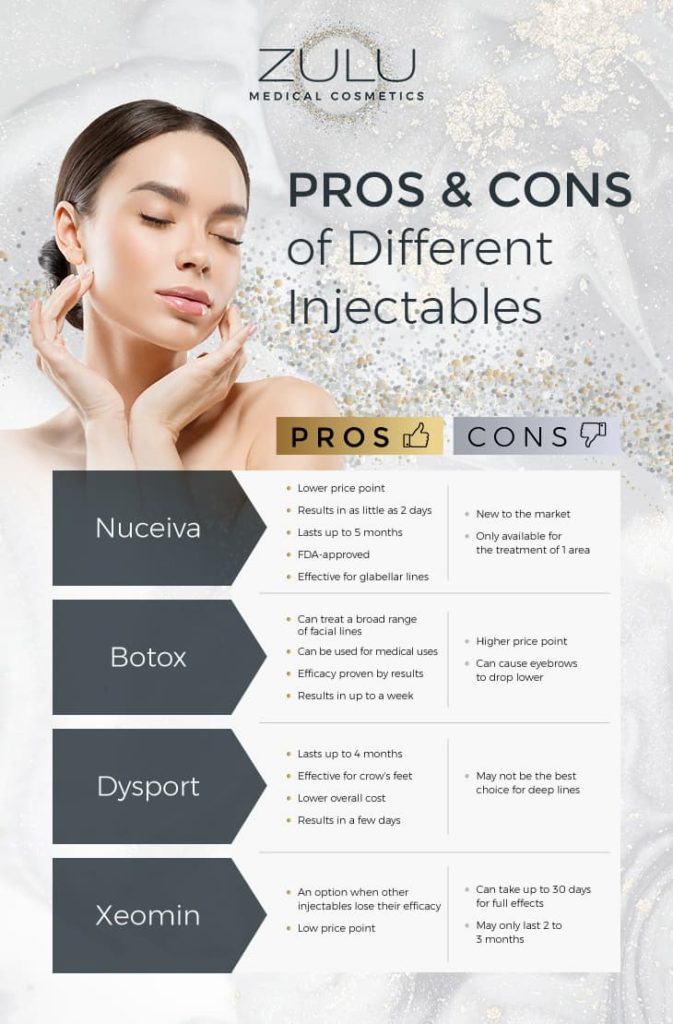 Nuceiva
Nuceiva, or PrabotulinumtoxinA, is a new neurotoxin injectable that was recently approved by the FDA to treat lines in the forehead.
Despite its new appearance into the injectable market, Nuceiva has the same particle size as Botox (900kDa), which is considered the "gold standard" for efficacy. A double-blind, placebo-controlled study published in April 2019 in Aesthetic Surgery Journal found that Jeuveau was just as effective in addressing forehead lines as Botox.
In US studies, 70% Nuceiva ( Jeuveau) recipients experienced significant improvement in frown lines 1 month after treatment. In Europe and Canada, 54% of patients had visible results as early as 2 days following treatment, and 38% experiencing visible results 5 months following treatment.
Nuceiva is an excellent choice for patients interested in trying a new injectable. For some patients, Nuceiva is more effective and lasts longer than other treatments.
Botox
Botox, or OnabotulinumtoxinA, is a popular FDA-approved injectable commonly used to treat moderate to severe frown lines, crow's feet, and forehead lines. Although Botox is typically used to treat a broader range of lines above and between the eyebrows, individuals with low eyebrows can sometimes experience their brows drop lower than they may like.
Botox injections have also been used to treat a variety of medical conditions that affect the neuromuscular system. Health Canada approves Botox to treat things like hyperhidrosis, eyelid spasms, chronic migraines, bladder dysfunction, and more.
Botox injections typically take up to a week to take effect, but you may begin to see notable results in 24 to 48 hours.
Dysport
Dysport, or AbobotulinumtoxinA, is an injectable used primarily to smooth the frown lines between the eyebrows. Results from Dysport injections typically show up within a few days but may take up to a week to show full effect.
Dysport may also last longer, with most patients reporting having to return to the office for additional treatments every 4 months. More time in between treatments means a lower overall cost, which can be attractive to some patients.
Also, Dysport may travel through tissues a greater distance, giving you an advantage in broader treatment areas, like crow's feet. However, if you are looking to target a specific muscle, like glabellar lines, other injectables like Nuceiva or Botox may perform better.
What About Xeomin?
Xeomin, or incobotulinumtoxinA, is another neurotoxin injectable used to target moderate to severe frown lines between the eyebrows. In some cases, regular users of neurotoxin injectables can develop tolerance, making them less effective.
Xeomin has a less dense protein coat on the toxin molecule, making it less dense than its counterparts. When other injectables lose their efficacy, Xeomin can be an attractive option.
However, Xeomin may take longer to show full results. Typically, you will notice results within a few days, but the maximum outcome can take up to 30 days. If you want a fresh look before a big event and need it quickly, Xeomin may not be the best option.
Typically, Xeomin lasts between 2 and 3 months but is priced accordingly. Depending on your goals, it can be an excellent choice, but keep in mind it may not show full effects until 30 days following treatment and may only last another 30 days.
Which is Better?
It's essential to do your research before getting any cosmetic procedures. At Zulu Medical Cosmetics, you can be sure you will receive comprehensive answers to any of your questions to make an educated decision on what neurotoxin injectable is right for you.