Why is Sunscreen Important?
Sunscreens play an essential role in protecting and preserving the integrity of your skin. They are typically applied topically and act as a barrier between your skin and harmful UV rays. There are many different sunscreen types, so it can be challenging to know what kind will work best to protect you from sunburns and skin damage.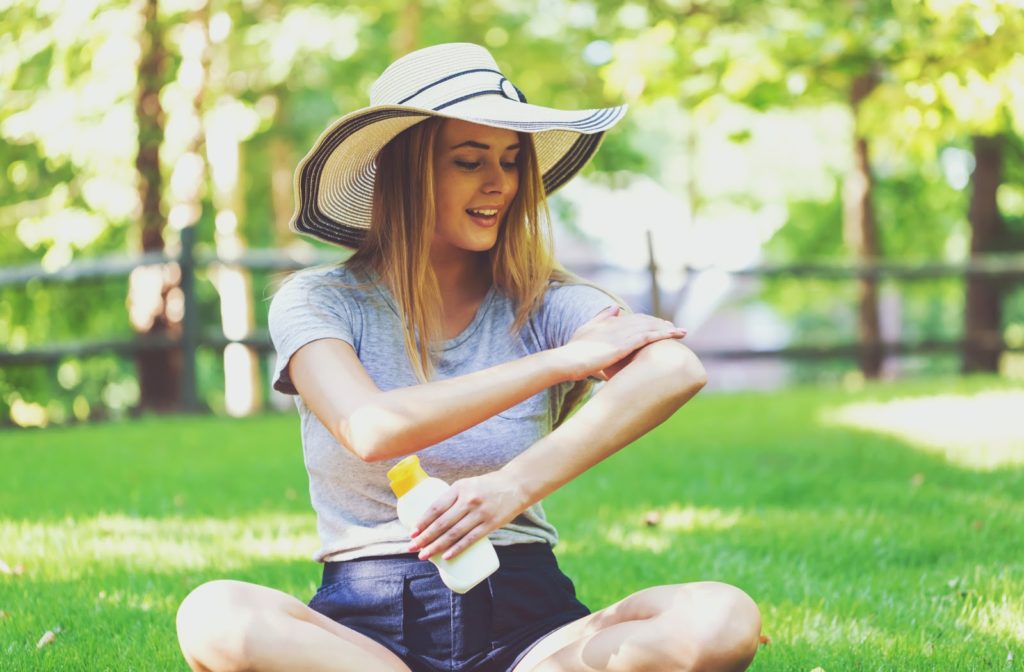 SPF & What it Means
All good-quality sunscreens that will give you adequate protection from the sun will be labelled with a sun protection factor (SPF) number. The SPF number correlates to how long it will take for your skin to burn without any protection and how long it would if you applied a good amount of sunscreen.
No matter what type of sunscreen you choose, whether lotion, spray, gel, or another kind, you should always look for a product with a minimum SPF of 30. The sun gives off harmful UVB rays, which can burn the surface of the skin, and UVA rays, which penetrate deep into the skin, can be responsible for the development of skin cancer, sun spots, and signs of ageing.
Broad-spectrum sunscreens will protect against both types of UV rays, giving you the most comprehensive protection. Also, if you play sports, specially formulated sports-style sunscreens have been developed to stay on the skin during intense activity and sweating. When shopping for sunscreen, look for the Canadian Dermatology Association (CDA) logo on products to ensure their safety and effectiveness.
Different Types of Sunscreen
There are 2 main types of sunscreens that you can purchase to protect your skin against sun damage and skin cancer – chemical and mineral. Both products haven't been deemed unsafe by the Food and Drug Administration, but they are different in composition and how they protect your skin.
Although both sunscreen types are generally safe to wear, the Environmental Working Group (EWG) recommends avoiding chemical sunscreen as oxybenzone can cause hormone disruptions and allergic reactions. Further, a review published in the Journal of the American Academy of Dermatology in January 2019, has stated that common ingredients in chemical sunscreen have been shown to bleach and damage coral reefs.
What is Mineral Sunscreen?
Mineral sunscreen, like Colorescience's Sunforgettable line, is made up of the only 2 sunscreen ingredients that the FDA recognized as safe and effective. They are generally gentle on the skin and do not absorb any potentially harmful chemicals into the skin and bloodstream. The formula sits on top of the skin and deflects the sun's rays, and is easily washed away with water.
Mineral sunscreen offers protection immediately after application, as it doesn't need to absorb into the skin to work. You can also apply it on top of other products or makeup.
However, mineral sunscreen is typically thick and sits on top of the skin, which may contribute to breakouts in acne-prone skin. Also, as the formula sits on top of the skin, it can leave a white film that can be more difficult to rub in and may need to be applied more frequently.
It's best to consult your healthcare professional about what type of sunscreen will work best for your lifestyle and skin type with any products.
What is Chemical Sunscreen?
Chemical sunscreens are quick and easy to apply without leaving a white film on your skin. They generally stay on your skin for longer as they absorb quickly and can protect you for longer from harmful UV rays. Chemical sunscreens act typically like a sponge, absorbing the UV rays rather than reflecting them, like their mineral counterparts.
However, chemical sunscreens are made of, well, chemicals – that can potentially absorb into your bloodstream. The most common ingredients in chemical sunscreen are oxybenzone, avobenzone, octisalate, octocrylene, homosalate, and octinoxate.
There hasn't been enough conclusive research to prove that any chemicals absorbed from traditional sunscreen are unsafe. Still, studies continue to ensure chemical sunscreen is safe to use. Although chemical sunscreens can cause allergic reactions in people with sensitive skin, and worsen conditions like melasma and rosacea.
The FDA has also proposed that 2 ingredients used in some chemical sunscreens are labelled as not "generally recognized as safe and effective," or GRASE. Para-aminobenzoic acid (PABA) and trolamine salicylate have been said to have risks that outweigh their benefits. However, since these 2 ingredients have been proven not to be safe or effective, the FDA has disallowed its use in approved products.
So, What's the Best Sun Protection?
The best way to determine what type of sunscreen is best for you, your health, and your skin, is to meet with your dermatologist or other healthcare professional. At Zulu Medical Cosmetics, we are dedicated to ensuring you have the best selection of skincare products and routines to protect your skin and enhance your confidence effectively.
Health Canada has said that avoiding the sun at peak hours is the best way to prevent sun damage. Proper sun protection, like wide-brimmed hats, sunglasses, and sunscreen (no matter what type) is the best way to avoid sun damage altogether.
If you wear makeup consistently, it's important to choose brands that contain SPF or are generally UV-resistant. At Zulu Medical Cosmetics, we carry a selection of sun-friendly Colorescience makeup that can protect your skin while helping you look and feel great.
However, it's important to note that makeup with SPF alone is not enough for adequate protection from harmful UV rays. Applying a good quality sunscreen under your face makeup will ensure the delicate skin on your face is appropriately protected.
Either mineral or chemical sunscreen is better than nothing when it comes to protecting your skin. At Zulu Medical Cosmetics, we have a range of UV-resistant products, including Colorescrience's specially-formulated mineral sunscreen, that can help safeguard your skin from damage, and we're happy to recommend something that will work best for your health and lifestyle.