Create Your Customized Skincare Regimen
The skin serves as a foundation for beauty. Before investing in injectables or other treatments, we recommend our clients begin their journey by nourishing, repairing, and fortifying their skin.
Zulu Medical Cosmetics offers a range of products and services to pamper and perfect your skin. We take a functional approach to anti-ageing, with skincare products, treatments, and supplements to achieve healthy skin inside and out.
Request an appointment with us to uncover your skin's natural radiance.
Colorescience
Originally designed for vulnerable post-procedure skin, Colorescience cosmetics are UV-resistant, breathable, mineral-based, and nutrient-rich. This luxurious line of face products offers everything your skin needs to age well without harsh chemicals or additives.
You can build your fully-customized Colorescience regimen in four steps: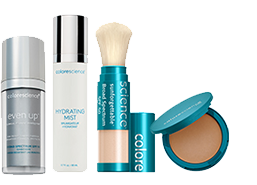 Prep
Correct
Enhance
Protect
Start with an ideal canvas. Colorescience's treatments are specifically designed to target common skin issues, including sensitivity, redness, and fine lines and wrinkles. Plus, with SPF in each formula, your skin is safe from the sun's harsh UV rays.
Before applying makeup, give your skin a radiant boost. Each Colorescience Skin Perfector is formulated to enhance your skin with a different tone, texture, and finish.
See the full line of Colorescience Skin Perfectors.
Your foundation should look like your skin, but better. Colorescience offers a variety of foundation formulas to suit your unique needs; including loose powder, liquid, and pressed powder.
Enhance your natural beauty with mineral-based products. Colorescience has everything from mascara and eyeliner to eye pallets and illuminators.
Ultraviolet rays may be your skin's greatest enemy. All Colorescience products include SPF protection. With the additional help of their UV protectors, you can preserve your skin's natural youthful glow.
Environ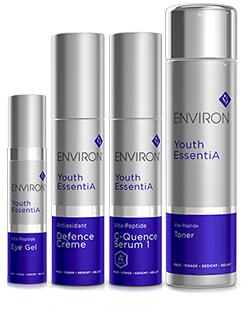 For decades, Environ has used the science of vitamin A to help people protect, preserve, and reinvigorate their skin. In addition to a range of Environ products, Zulu Medical Cosmetics offers in-office Environ services.
Environ chemical peels are safe, effective, non-toxic, and gentler than standard chemical peels. Our specially trained clinicians apply a series of Cool Peels to your face, exfoliating the skin without causing trauma. You will leave your appointment with clearer, softer, smoother, and more even skin tone.
Micro-needling involves the use of a small device called the InnoPen to gently penetrate the outermost layers of skin. This stimulates the skin to create more collagen and elastin, providing your skin with a more youthful look and feel. The micro-channels created by micro-needling also allow serums and other products to absorb into your skin more effectively, giving them a better opportunity to create results.
Your wellness is our top priority. The InnoPen allows us to adhere to the highest standards of cleanliness and safety when performing micro-needling services. By its very design, the InnoPen eliminates the risks associated with other automated micro-needling devices.
Vitamin Infusion Treatments
Our Environ Vitamin Infusion treatments combine the benefits of vitamin A with the advanced capabilities of cutting-edge technology. These specialized treatments use soundwaves and electrical currents to help vitamin molecules penetrate the skin up to 40 times better than topical application would. With the full benefit of vitamin A, you get to experience smoother and healthier looking skin.
Bend Beauty Skincare
Build beautiful skin from the inside out with a supplement rooted in science. With over 50 years of experience and research, Bend Beauty has created its Anti-Aging Formula to help reduce and prevent ageing.
Anti-Aging Formula was created with UV defence, which helps to boost your skin's resistance to sunburn. The formula also helps to firm and protect your skin with hydration and antioxidants. All this, while being held to the highest quality and purity standards to help you live beautifully.
Marine Collagen + Co-Factors
Collagen is the most abundant protein in your body, and it's a major component of your nails, hair, and skin. As you age, however, your body produces less collagen, which can lead to wrinkles and dryness.
Collagen supplements can help combat wrinkles, reduce dryness, and improve elasticity. The Bend Beauty Marine Collagen + Co-Factors provides your body with collagen, silicon, and vitamin C to protect against skin ageing and support healthy hair and nails.