Create Your Customized Skincare Regimen
The skin serves as a foundation for beauty. Before investing in injectables or other treatments, we recommend our clients begin their journey by nourishing, repairing, and fortifying their skin.
Zulu Medical Cosmetics offers a range of products and services to pamper and perfect your skin. We take a functional approach to anti-ageing, with skincare products, treatments, and supplements to achieve healthy skin inside and out.
Request an appointment with us to uncover your skin's natural radiance.
Colorescience
Originally designed for vulnerable post-procedure skin, Colorescience cosmetics are UV-resistant, breathable, mineral-based, and nutrient-rich. This luxurious line of face products offers everything your skin needs to age well without harsh chemicals or additives.
You can build your fully-customized Colorescience regimen in four steps: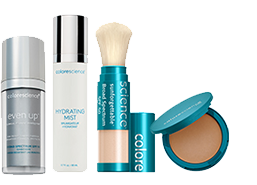 Prep
Correct
Enhance
Protect
Start with an ideal canvas. Colorescience's treatments are specifically designed to target common skin issues, including sensitivity, redness, and fine lines and wrinkles. Plus, with SPF in each formula, your skin is safe from the sun's harsh UV rays.
Before applying makeup, give your skin a radiant boost. Each Colorescience Skin Perfector is formulated to enhance your skin with a different tone, texture, and finish.
See the full line of Colorescience Skin Perfectors.
Your foundation should look like your skin, but better. Colorescience offers a variety of foundation formulas to suit your unique needs; including loose powder, liquid, and pressed powder.
Enhance your natural beauty with mineral-based products. Colorescience has everything from mascara and eyeliner to eye pallets and illuminators.
Ultraviolet rays may be your skin's greatest enemy. All Colorescience products include SPF protection. With the additional help of their UV protectors, you can preserve your skin's natural youthful glow.
Environ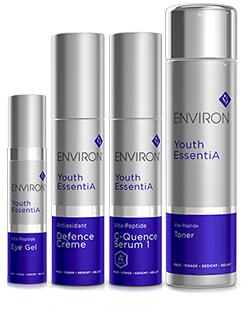 For decades, Environ has used the science of vitamin A to help people protect, preserve, and reinvigorate their skin. In addition to a range of Environ products, Zulu Medical Cosmetics offers in-office Environ services.
Custom Skin Consultations
Optimize your skin quality forever. Analyze and discuss your skincare objectives to design and implement a skin regime to improve your skin's texture, tone, and overall appearance.
Environ is for everyone, regardless of age, gender, or race, by restoring, reviving, and rehabilitating your skin's overall health and beauty.
How is this done? By combining the best of what science and cutting-edge technology have to offer with sound skincare principles.
Environ is a globally recognized and loved Professional Skin Care brand that is built on science, beauty, and care.
Voted best medical skincare of the DECADE in 2021 by aesthetic everything.
Since Dr. Des Fernandes founded Environ in 1990, Vitamin A has become the cornerstone ingredient in the Environ Skin Care philosophy.  It is an essential skin nutrient that has to be replenished every day for the skin to appear healthier and more resilient. It is the only known molecule that helps keep the skin healthy and provides anti-aging benefits. 
When combined with other essential nutrients, like antioxidants and peptides, the long-term enhancement of the appearance of the skin becomes clearly visible. 
Manufactured in a state-of-the-art facility using only the highest quality ingredients and fresh active vitamins. The use of special packaging is used to preserve the integrity of the product
Using science to future-proof skins across the globe to help create the appearance of more youthful healthy-looking beautiful skin and make real differences in peoples' lives.
The core Environ skin care products in the Essential Care lineup are based on Environ's own Vitamin STEP-UP SYSTEM™. Created to help skin become more comfortable with increased levels of vitamin A and other ingredients from one level to the next so that the skin can be reborn and look healthy and beautiful for a lifetime.
Environ chemical peels are safe, effective, non-toxic, and gentler than standard chemical peels. Our specially trained clinicians apply a series of Cool Peels to your face, exfoliating the skin without causing trauma. You will leave your appointment with clearer, softer, smoother, and more even skin tone.
Micro-needling involves the use of a small device called the InnoPen to gently penetrate the outermost layers of skin. This stimulates the skin to create more collagen and elastin, providing your skin with a more youthful look and feel. The micro-channels created by micro-needling also allow serums and other products to absorb into your skin more effectively, giving them a better opportunity to create results.
Your wellness is our top priority. The InnoPen allows us to adhere to the highest standards of cleanliness and safety when performing micro-needling services. By its very design, the InnoPen eliminates the risks associated with other automated micro-needling devices.
Vitamin Infusion Treatments
Our Environ Vitamin Infusion treatments combine the benefits of vitamin A with the advanced capabilities of cutting-edge technology. These specialized treatments use soundwaves and electrical currents to help vitamin molecules penetrate the skin up to 40 times better than topical application would. With the full benefit of vitamin A, you get to experience smoother and healthier looking skin.
Environ Products We Carry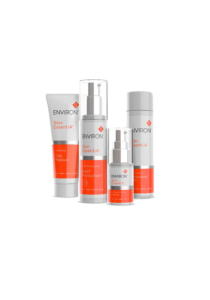 Beautifully radiant and healthy-looking skin has the right levels of Vitamin A. The powerful combination of vitamins A, C, E and other essential skin nutrients contained in the Skin EssentiA® Range help to replace what skin has lost over time. By delivering optimal levels of Vitamins and nutrients to the skin these natural levels are restored revealing your skin's natural beauty.
Products: Oil Free Eye Make-up Remover, Dual Action Pre-Cleansing Oil, Hydrating Clay Masque, Mild Cleansing Lotion, Low Foam Cleansing Gel, Botanical Infused Moisturising Toner, Antioxidant and Peptide Eye Gel, Vita-Antioxidant AVST Moisturisers 1-5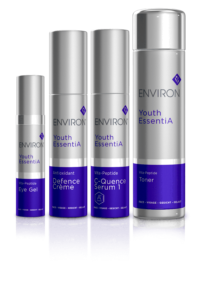 The Youth Essentia Range is a premium Range of products that serves as a complete skin care programme by addressing the root causes of unhealthy skin and restoring the natural levels of vitamins and nutrients in the skin. The Youth EssentiA Range Vitamin STEP-UP SYSTEM™ contains increasing levels of vitamins A, C and E, antioxidants and peptides to create healthier looking skin that glows with youthful radiance.
Products: Hydra-Intense Cleansing Lotion, Vita-Peptide Toner, Vita-Peptide Eye Gel, Vita-Peptide, C-Quence Serum 1-4, Antioxidant Defence Crème, Vita-Peptide Intensive Serum 4 Plus
FOCUSSED CARE
This Range consists of products that specifically target the skin characteristics that have been identified
The solution to breakout-free skin is clear, with Environ's Focus Care Clarity+ Range. This Range consists of products that specifically target breakout-prone skin and addresses the vitamin A deficiency in problematic skin.
Products: Botanical Infused Sebu-Wash Gel Cleanser, Botanical Infused Sebu-Tone Clarifier, Hydroxy Acid Sebu-Lac Lotion, Vita-Botanical Sebu-ACE Oil, Botanical Infused Sebu-Spot Blemish Gel, Hydroxy Acid Sebu-Clear Masque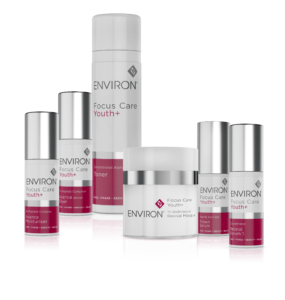 Specially formulated add-on products that specifically target the visible signs of ageing. The add-on products form part of the Specialist Skin Care segment in the Environ brand architecture.
Products: Concentrated Alpha Hydroxy Toner, Tri Bio Botanical Revival Masque, Peptide Enriched Frown Serum, Tri-Peptide Complex + Avance Elixir, Concentrated Retinol Serum 1-2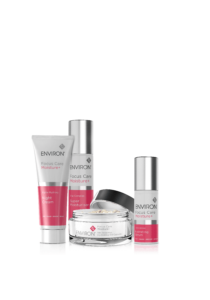 Moisture boosting properties to re-hydrate your skin leaving your moisturized and refreshed…extremely beneficial in dry climates like we have here in Calgary.
Products: Alpha Hydroxy Night Cream, Vita-Complex Super Moisturiser, HA Intensive Hydrating Serum, Vita-Antioxidant, Hydrating Oil Capsules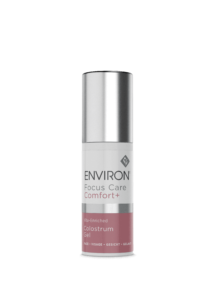 Addressing sensitive skin by delivering comfort-enhancing benefits.
Products: Vita-Enriched Colostrum Gel, Vita-Enriched Antioxidant Gel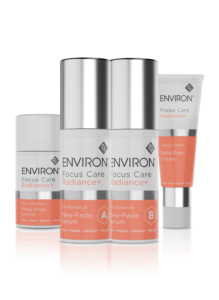 Radiance+ to improve the appearance of uneven skin tone providing a more radiant and healthier looking skin.
Products: Multi-Bioactive Mela-Prep Lotion, Multi-Bioactive Mela-Fade Serum A, Vita-Botanical Mela-Fade Serum B, Intense C-Boost, Mela-Even Cream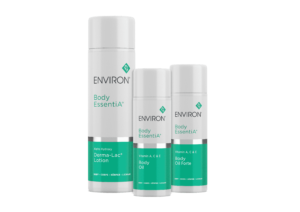 Environ identifies the body as an extension of skin care and believes it is as important as the face. For this reason, Environ has created a separate body range resulting in a premium head to toe skin care range
Products: Vitamin A, C & E Body Oil, Vitamin A, C & E Body Oil Forte, Derma-Lac Lotion, Discovery Duo (Vitamin A, C & E Body Oil + Derma-Lac Lotion)
Bend Beauty Ingestible Skincare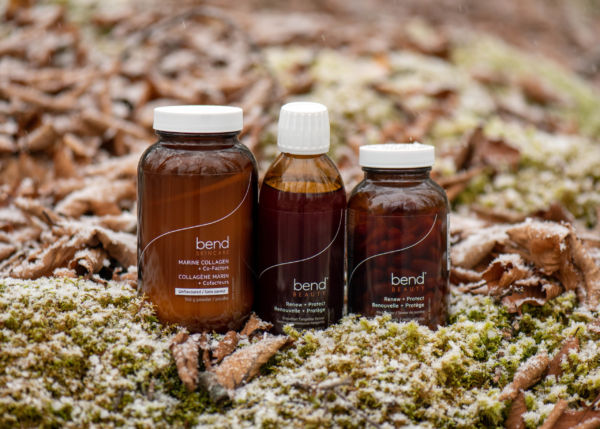 Build beautiful skin from the inside out with a supplement rooted in science. With over 50 years of experience and research, Bend Beauty has created its Anti-Aging Formula to help reduce and prevent ageing.
Anti-Aging Formula was created with UV defence, which helps to boost your skin's resistance to sunburn. The formula also helps to firm and protect your skin with hydration and antioxidants. All this, while being held to the highest quality and purity standards to help you live beautifully.
Marine Collagen + Co-Factors
Collagen is the most abundant protein in your body, and it's a major component of your nails, hair, and skin. As you age, however, your body produces less collagen, which can lead to wrinkles and dryness.
Collagen supplements can help combat wrinkles, reduce dryness, and improve elasticity. The Bend Beauty Marine Collagen + Co-Factors provides your body with collagen, silicon, and vitamin C to protect against skin ageing and support healthy hair and nails.