Relief from Incontinence, Dryness, & Atrophy
Confidence isn't something you wear on your face; it radiates throughout your body. If you're feeling insecure about any part of yourself, your confidence will suffer.
Our vaginal health services are designed to improve your comfort, quality of life, and confidence by strengthening and rejuvenating your most intimate areas.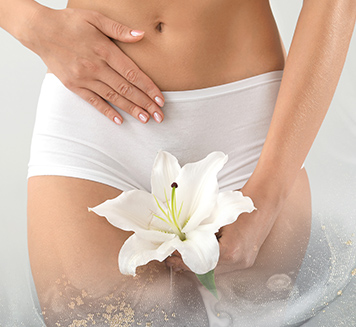 Our Vaginal Health Treatments
IncontiLase® for Incontinence
Many women experience some incontinence as they grow older or after they have children. IncontiLase® is a non-invasive procedure that uses thermal laser techniques to stimulate collagen production.
This tightens the vaginal and endopelvic tissue, providing the bladder with additional support. 94% of patients have reduced incontinence symptoms after IncontiLase® treatment.
IntimaLase® for Vaginal Relaxation Syndrome
Both ageing and overstretching during childbirth can result in a condition called vaginal relaxation syndrome. IntimaLase® helps restore the vaginal canal to its optimal structure.
This laser treatment is non-invasive and uses heat to stimulate collagen production. The increase in collagen tightens the vaginal and endopelvic tissue. 95% of patients assessed the change of their vaginal tightness as strongly or moderately improved after IntimaLase treatment.
RenovaLase® for Vaginal Atrophy
Up to 40% of women suffer from vaginal atrophy. This condition causes the vaginal walls to thin and become dry, usually after menopause. RenovaLase® uses a laser to stimulate collagen production.
The increase of collagen can help build the muscles and thicken the tissue while also alleviating symptoms like dryness, irritation, and itching. Scientific results show increases in collagen and vaginal wall thickness. These results were long-lasting, with most patients seeing continued improvement 6-months after treatment.
What to Expect from Your Treatment
Our laser treatments are safe and effective, and are much less invasive than surgical options. With laser treatment, you get relief from your incontinence and vaginal symptoms without the discomfort and long healing time of other methods.
The lasers we use are highly precise and compact, making it easy to treat intimate areas. During your treatment, you can expect the following:
Step 1: A speculum will be inserted into your vaginal canal.
Step 2: A thin, laser handpiece will be passed through the speculum.
Step 3: The laser is then applied to your vaginal wall.
Step 4: The speculum is removed, and the vaginal opening is treated with the laser.
Frequently Asked Questions
Who Will Be Performing the Treatment?
Your physician-driven, custom women's health treatment will be performed by an Advanced Laser Clinician and overseen by Dr.Lombard.
Can I Request a Female Technician?
All of our laser technicians and Dr. Lombard are women. We will do everything we can to make you comfortable. If there is anything you need during your treatment, don't hesitate to ask.
How Many Treatment Sessions Will I Need?
Typically, 2 treatment sessions are recommended.