Define Your Jawline
You could have the defined jawline you have always desired. Belkyra® allows us to eliminate excess fat under the chin (sometimes called a "double chin") without surgery. Through a series of injections, you can see a visible difference; a leaner and better-defined face.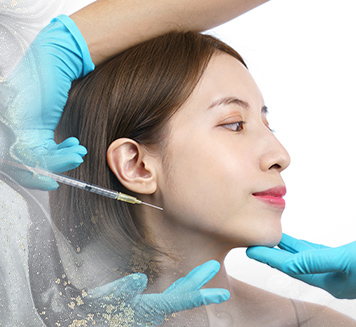 What Is Belkyra®?
Belkyra® is a treatment that dissolves fat around the jawline, neck, and chin. It's also known generically as chin sculpting or as Kybella® in the United States. Whatever you call it, Belkyra® is a fat-dissolving injection (Deoxycholic acid which is naturally present in our bodies) that is injected that helps eliminate stubborn fat around your neck and face.
How Does Belkyra® Work?
Belkyra® is injected into the fatty tissue under the chin, releasing its active ingredient: deoxycholic acid. Your digestive tract naturally produces deoxycholic acid to break down the fat you eat. When injected under your chin, this acid dissolves fat cell membranes, which your body then removes naturally.
What to Expect from Belkyra®
Before starting your Belkyra® treatments, you will need to come in for a complimentary consultation to ensure you're a good candidate for the injections. If we believe Belkyra® is right for you, we will schedule you for your first treatment, which should take approximately 30 minutes.
You will need to wait 6–8 weeks between treatments. You will need a minimum of 2 treatments, with up to 6 treatments to get you the results you desire. To maintain your results, we recommend eating a healthy diet and exercising on a regular basis.
Frequently Asked Questions
Who Will Be Performing the Treatment?
Belkyra® treatments are performed by one of our cosmetic nurse injectors, with oversight from our head physician, Dr. Lombard.
How Many Treatments before I See Results?
You require a minimum of 2 treatments and up to 6 treatments may be necessary to get you the results you desire.
Is Belkyra® the Same as Kybella®?
Yes, they are both the same treatment. Belkyra® is simply the Canadian brand name, whereas Kybella® is the American name.