Alleviating Chronic Pain
Living with chronic pain is exhausting and frustrating. Not only do sufferers have to deal with discomfort on an almost daily basis, but the search for treatments becomes mentally taxing, causing many people to withdraw into themselves. Chronic pain can seriously limit your ability to function physically, mentally, and emotionally.
Zulu Medical Cosmetics has a drug-free solution that may help you manage your pain.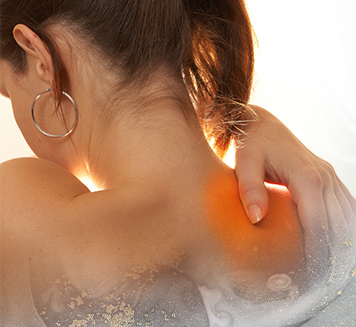 Laser Therapy for Chronic Pain
Our Fotona laser system targets problematic muscles with precise heat energy. This application of heat loosens the tissues and improves the flow of lymphatic fluid, which reduces swelling and alleviates the associated pain and tension.
While it facilitates lymphatic fluid flow, the heat from the laser also stimulates healing; helping your body create more connective tissue to strengthen the part of your body that's causing you pain.
The Advantages of Laser Pain Management
Treatments only take approximately 10 minutes from start to finish. You can book your appointments based on your pain levels and your schedule. We will make pain management work with your lifestyle.
Unlike many pain management strategies, laser treatments do not rely on pain medications or prescription drugs. The treatment is entirely natural, stimulating your body to heal and restore itself.
Pain medications often lead to addiction and dependency, especially for chronic cases where the drugs are taken continuously. Because Fotona laser treatment is drug-free, it poses no threat of addiction. Laser treatments are also clinically proven to be highly effective.
What to Expect From Your Treatment
Your experience with laser pain management will depend on a variety of factors, including your initial pain level and the source of your pain. Most patients experience a sensation similar to a hot stone massage.
Some patients experience improvements in their pain after a single treatment. Even so, we recommend a treatment course of 6-8 treatments with 2 treatments a week.
Most patients are able to go about their day normally as soon as their treatment is finished.
Initial treatments start at $135, consecutive treatments $105.