Lip Fillers Fit for You
If you're thinking about kissing your thin lips goodbye, lip fillers may be your perfect solution.
Over time, our lips can change shape. As we age, fine lines and wrinkles may take the place of our once-plump pout.
Whether you desire a subtle and natural-looking enhancement to restore your youthful look or a more dramatic change, you are in charge of how your lips will look.
No matter your personal reason for considering lip injection, we want you to feel good about your look. Our friendly and professional team is here to make you look and feel your best.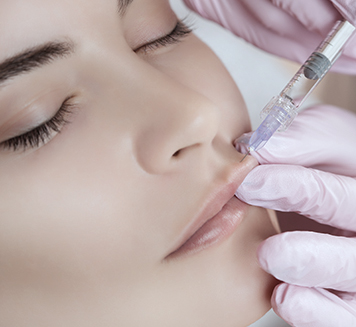 What Are Lip Fillers?
Lip fillers are injected into the lip area to give them a fuller, more youthful look. Fillers help reduce the look of fine lines and wrinkles and add volume to your face for a fuller and firmer appearance.
Many dermal lip fillers contain hyaluronic acid, which occurs naturally in your body. When hyaluronic acid is injected into the skin, it stimulates collagen growth which produces natural-looking results.
Lip Fillers We Offer
This dynamic range of dermal filler products is specially-designed with your natural beauty in mind. Teosyal fillers are recognized worldwide for their innovation and development, and the company has won multiple awards.
Teosyal doesn't stop improving your skin. Results are immediately visible following treatment, and Teosyal can continue to slowly improve skin for weeks afterward.
This dermal filler is ideal for areas around the eyes, cheeks, and around the mouth as it contains the newest formulation of hyaluronic acid, referred to as RHA (Resilient Hyaluronic Acid). The RHA allows the product to be stretched, bent, and compressed while preserving the spring back/recoil of the skin.
This unique line of facial filler products treats fine lines and wrinkles. Juvederm fills lips and helps restore facial volume.
Juvederm is a temporary lip filler, and you may need a few treatments before you start noticing results. Additional treatments may be needed within 9 to 24 months.
What to Expect Before, During, & After
Before you decide which lip filler is for you, you will come in to speak with us for a consultation. Sometimes, we can complete the consultation and the procedure all in the same day.
Since lip fillers are a non-surgical procedure, most lip injections will take less than an hour and recovery time is minimal.
Any discomfort as a result of a lip injection should be easily managed with an over-the-counter pain medication. Minor swelling, redness, or bruising should dissipate fairly soon after your appointment.
You will likely notice results right after your lip injections. If you would like to achieve more volume after your lip filler, please speak to us.
Frequently Asked Questions
How Long Do Lip Fillers Last?
Depending on which option you choose, lip fillers should last between 22-24 months. You should notice a difference in your appearance immediately after receiving the lip filler. You are welcome to add more after your first visit, if you'd like some extra enhancement.
Will There Be Bruising After?
You may notice some swelling or minor bruising at the injection site. Apply ice or a cool compress after receiving your lip injection to help minimize any swelling or bruising that may occur. You should be able to resume normal activity following your lip filler appointment.
Will My Lips Look Natural?
Yes. The lip fillers we use produce a natural look. The amount of plumpness you receive is all up to you. If you're looking for something subtle or a more dramatic appearance, we will adjust how much lip filler you receive. You are always welcome to come back for additional lip injections.
Who Will Be Performing the Treatment?
You can book with Cosmetic Physician Dr. Jeane Lombard or any of our cosmetic nurse injectors. All of the injectors on our team are artistic, skillful, and highly-trained.