Laser Blepharoplasty
As you age, the delicate skin around your eyes can lose some of its elasticity and appear droopy, saggy, puffy or wrinkled. Tightening the skin around your eyes can reduce those fine lines and wrinkles.
Calgary winters tend to cause a lot of glare from sunlight and snow, so wrinkles around the eyes from excessive squinting are very common. Laser blepharoplasty can rejuvenate the skin near your eyes, helping you achieve a fresher and more youthful appearance.
Request an appointment for your Laser Blepharoplasty consultation now.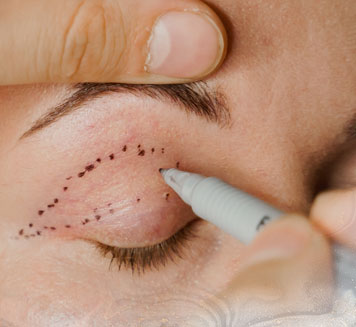 What is Laser Blepharoplasty?
Laser blepharoplasty is a non-invasive laser treatment that targets the periocular region. It can be useful for people who:
Have wrinkles near their eyes due to aging
Have puffy eyes due to fatigue
Want to reduce cosmetic skin damage around the eyes due to sunlight or glare
Laser blepharoplasty is typically faster than traditional surgical approaches, and offers shorter recovery times. It is considered a safe and fast way to improve the appearance of skin near your eyes.
How Does Laser Blepharoplasty Work?
We use the Fotona SP Dynamis and customize each treatment to your specific needs and desires. It's used to tone and rejuvenate the delicate area around the eyes by stimulating natural collagen production while tightening existing collagen. This treatment uses Fotona's patented SmoothMode™, which safely delivers high-intensity light to the skin and can provide excellent results with little or no down-time.
What to Expect From Laser Blepharoplasty
It is common to see some results immediately after treatment, with more noticeable changes appearing after 7 to 10 days. Improvements usually continue to appear for several months following the procedure as your body continues to produce collagen and your elastin regenerates.
Step 1: Laser blepharoplasty does not require general anesthetic since we use a gentle, non-invasive laser.
Step 2: We apply the laser to the skin around your eyes. You will feel gentle heat during this period, but most patients do not report significant discomfort.
Step 3: Immediately after your treatment you may experience minimal redness or swelling, accompanied by a sense of dryness in the treated area. These feelings are natural and should disappear over time.
Frequently Asked Questions
Is Laser Blepharoplasty Painful?
Most patients do not report significant discomfort during laser blepharoplasty. We offer complimentary ProNox, a 50/50 solution of nitrous oxide and oxygen, that patients can use to reduce anxiety or discomfort during the procedure.
How Many Treatment Sessions Will I Need?
Laser blepharoplasty can typically be performed in a single session.
How Long Is the Healing Process?
We normally recommend that patients rest and recover for 1 or 2 days following laser blepharoplasty. Normal activities can usually be resumed within 2 to 4 days of the procedure, though strenuous activities should be avoided for approximately 2 weeks.