What Treatment is Right for Me?
Every person is different, but everybody deserves a level of care to help them feel healthy and manage the risk of potential health issues. Proper healthcare starts with addressing your unique, individual needs.
At Zulu Medical, we're here to provide bespoke treatments designed for your body by combining the most advanced proven technologies available on the market to help you achieve your desired results. We can combine, customize, and adapt your treatments to your needs as they change.
All you have to do is request a consultation, and our team can handle the rest.
Reduce Stubborn Fat, No Surgery Required
There are plenty of ways to lose weight and trim some inches off your waistline. But, depending on your body type, there may be some areas where the fat just refuses to disappear no matter how much weight you lose.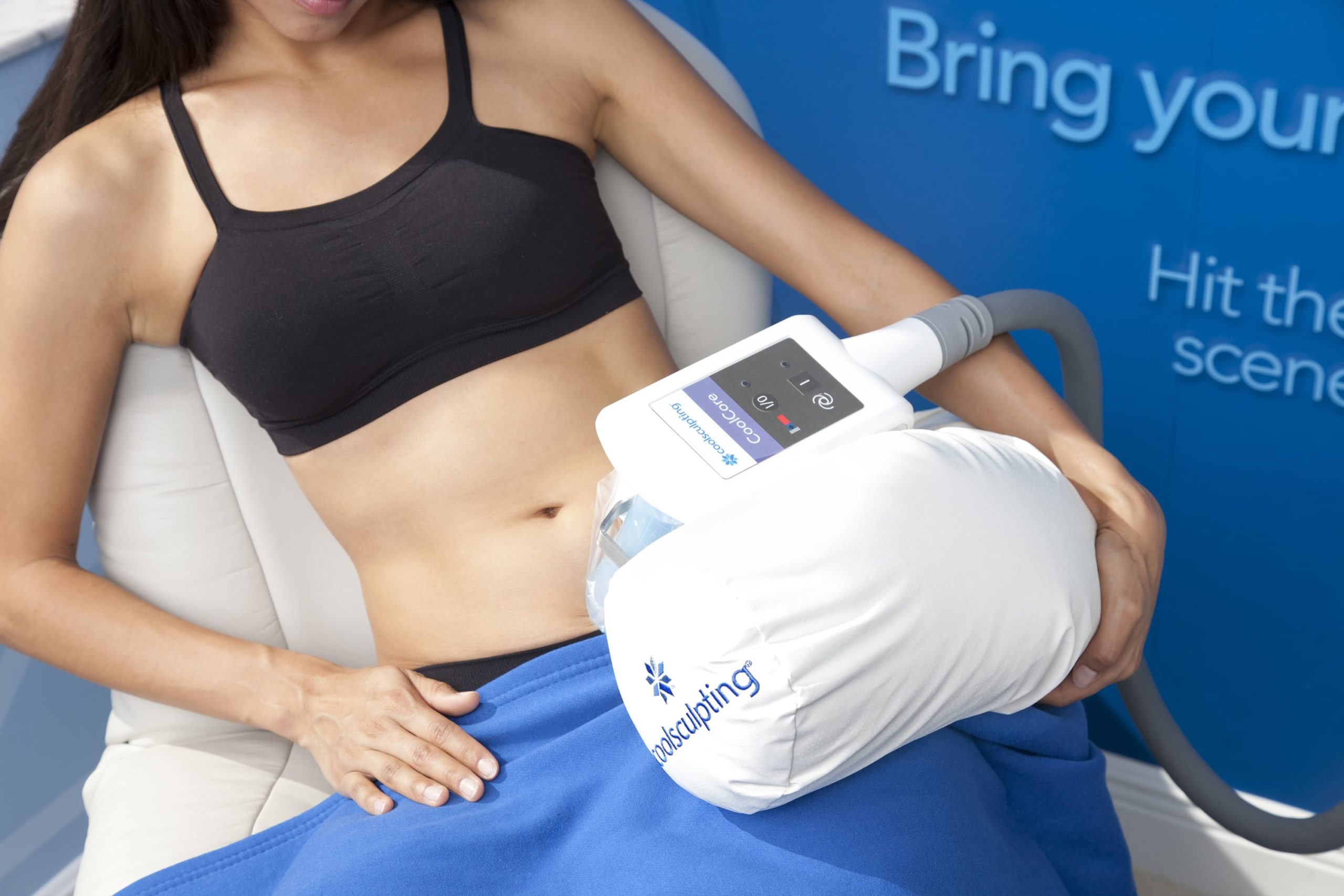 What Is CoolSculpting®?
CoolSculpting® is a leading non-surgical fat-reduction treatment that eliminates stubborn fat without surgery or other invasive methods. This highly-effective and scientifically-proven treatment uses the precise application of cold temperatures to reduce fat.
Using cryolipolysis (literally fat freezing), CoolSculpting® freezes and eliminates fat cells. Common treatment areas include:
Abdomen
Flanks
Inner thighs
Outer thighs
Chin (submentum)
Auxiliary puffs
Bra fat
Buttocks (banana roll)
Upper arms
How Does CoolSculpting® Work?
Fat cells freeze at a higher temperature than skin cells. CoolSculpting® applies this principle, using the exact temperature needed to freeze and kill fat cells without damaging your skin or surrounding tissues.
During your assessment, your treatment provider will carefully select the ideal applicator for the particular treatment area based on size and location to be treated.  This applicator is then placed on your skin and it sucks the fatty portion into a small chamber in order to provide controlled cooling to this area targeting the fat cells. 
After your procedure, your body will slowly start to dispose of the dead fat cells. On average, the treatment area will decrease in size by about 20% over the next 4 to 6 months.
What to Expect from CoolSculpting®
The applicator will be placed on the treatment area. As it begins to work, you'll feel a slight tugging and then a cooling sensation.
During the procedure, you may experience pulling, mild pinching, intense cold, tingling, stinging, aching, or cramping. These feelings will subside as the treatment area becomes numb. Once your CoolSculpting® technician completes the procedure, they will detach the applicator. Then, they will briefly massage the area to break up fat cells and enhance fat reduction.
Afterwards, you may notice redness, swelling, bruising, or soreness. All of these side effects are temporary.
How Do I Know If Coolsculpting® Is Right for Me?
The first step is to book a complimentary consultation with one of our certified CoolSculpting specialists to discuss your goals and to physically assess whether you are a good candidate. If you are indeed a candidate, we will work with you to design a custom treatment plan tailored to your specific needs to attain your desired results.
It's important to note that CoolSculpting® is not a weight-loss treatment. CoolSculpting® is designed to supplement a healthy diet and exercise. When diet and exercise alone aren't enough to eliminate stubborn fat, then CoolSculpting® is an option.
There have now been over 8 million CoolSculpting treatments performed worldwide as it is the leading non-evasive fat reduction used by doctors as it really works!
Frequently Asked Questions
Who Will Be Performing the Treatment?
You are in great hands with our CoolSculpting® Technicians. Our lead technician has performed over 7000 treatments and has also completed her CoolSculpting® Masters Certification which is the highest level of advanced training that you can attain.
What Areas Can CoolSculpting® be Used On?
CoolSculpting® is approved by Health Canada to treat 9 different areas of the body:
Abdomen

Flanks

Inner thighs

Outer thighs

Chin(Submentum)

Auxiliary puffs

Bra fat

Buttocks(banana roll)

Upper arms
How Many Treatments Will I Need?
That's a great question. Many patients see results after just 1 treatment, with a 20–25% reduction in fat. That said, you will need more than 1 treatment for the best results. The number of treatments varies from person to person, so in order to deliver desired outcomes for patients, we follow a 4-step process.
The first step is discussing your goals and identifying the treatment areas that bother you. Second, we do a comprehensive physical assessment of these areas.
Once this is complete our certified technician discusses treatment options and sets realistic expectations on outcomes for the patient which includes the amount of sessions required for that particular area(s), timeline and of course pricing.
What Are the Side Effects?
CoolSculpting® is a relatively new procedure, and while we still don't know what the long term effects may be, research has shown that CoolSculpting® does not damage the skin or appear to create any serious side effects. The majority of the side effects reported were temporary, and included:
Redness
Swelling
Bruising
Soreness
Tingling
Itching
Aching
Skin sensitivity