Custom Scar Revision
Scars can affect your self-confidence, but you don't have to let them. Zulu Medical Cosmetics offers laser treatments that can significantly improve the appearance of many scars, regardless of their age.
We take an individualized approach to every scar, choosing techniques and equipment to match the specific needs of each patient. Our treatments can help you feel more at home in your body once again.
Request an appointment for a complimentary consultation with our Laser Clinician.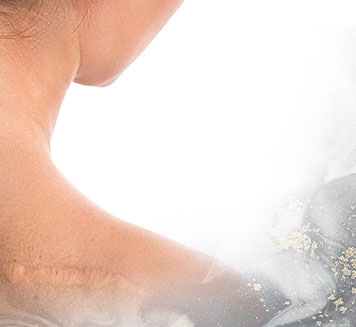 What is Custom Scar Revision?
Using a laser can help soften and improve the look of many old and new scars. We often work on scars caused by:
Injury
Surgery
Acne
Burns
Stretch marks
Our surgical-grade laser system, the Fotona SP Dynamis, allows us to customize scar treatments according to every patient's needs. We can employ ablative and non-ablative techniques, depending on the requirements of each case.
How Does Laser Scar Revision Work?
Our laser scar revision equipment makes it possible to improve the following types of scars:
We work to break up and soften dense scar tissue, remove raised tissue, and lift indentations in the skin. We can also reduce irregular texture and lighten pigmentation made darker by scarring.
While it is impossible to fully remove a scar, significant improvement is possible in the vast majority of cases—no matter how old the scar is or how it was created.
What to Expect From Laser Scar Revision
We offer complimentary consultations for each prospective laser scar revision candidate. During your consultation, our Laser Clinician will create a treatment plan based on your needs.
Most scars require multiple sessions to improve their appearance significantly. We typically perform at least three sessions for each scar, which normally include the following steps:
Step 1: We use a sterile technique to sanitize the area around your scar and apply a numbing cream if necessary.
Step 2: We move the laser over the scar tissue, occasionally cooling the area with water or a saline solution.
Step 3: Once the treatment is finished, we apply a barrier treatment and dress the area to protect it while you recover.
Frequently Asked Questions
Is the Treatment Painful?
The numbing cream we use before each treatment is prescription-strength, which effectively mitigates most feelings of discomfort during the procedure. Most patients describe the experience as highly tolerable.
We also offer ProNox, a 50/50 mix of oxygen and nitrous oxide that can help ease discomfort and anxiety during treatment. ProNox is preferable to most general anaesthetics because it clears from the body within minutes, allowing patients to drive themselves home safely after each procedure.
How Long Does Recovery Take?
Recovery times for laser scar revision differ depending on the following factors:
The size and severity of each scar
The location of each scar on the body
The intensity of treatment required to significantly improve the appearance of each scar
In most cases, the area around each scar must be kept clean and protected with Aquaphor and a bandage for several days after each appointment. We will provide you with specific pre- and post-care instructions during your consultation.
Due to the unique nature of every scar, pricing for laser scar revision can vary significantly. Our prices start at $250 per treatment.