Let's face it: most of us have a scar or two. And sometimes these scars are unwanted. Luckily, there is a safe, modern solution to diminish the appearance of scars and get your skin looking back to its original form. Laser scar revision might be the right choice to get rid of a scar that makes you feel self-conscious.
The first step to scar removal is a consultation with our aesthetic physician or laser technician. Once we confirm your skin is safe to treat, the removal process is simple and effective. Let's learn more about how scar removal works and what to expect during and after treatment.
What is Laser Scar Revision?
Laser scar removal, also known as laser scar revision, is a safe way to improve the appearance of unwanted skin markings. While the process doesn't completely remove an existing scar, it does make significant improvements in the noticeability of damaged skin. The goal of laser scar removal is to improve complexion and aesthetics by manipulating skin tissue.
Laser skin procedures have been common practice for over 50 years now. While there are some side effects following a procedure, it is generally a very safe and effective solution for scar revision. Our clinic will always provide a consultation before moving ahead with any laser procedure.
How Laser Scar Removal Works
Scars form when the skin experiences stress. This can occur after a traumatic event, such as an injury, or because of a skin condition like acne. As the body works to heal the damaged skin, a scab is formed. Underneath this scab, the skin produces collagen to repair the damaged tissue. Sometimes this process creates permanent markings that remain as scars.
Laser technology works by directing focused beams of light on damaged skin tissue. This process softens and improves the appearance of scars. Scar revision is accomplished by using laser wavelengths that target cells having an irregular appearance, causing a controlled injury that your body will then work to repair
Does it Work on All Scars?
Some scars have a raised texture, known as hypertrophic scars. Other types, called atrophic scars, feel indented from the rest of your skin. Scarring can also occur after inflammation, such as acne. All these types of scars can affect the pigmentation of the affected area. The good news is that laser revision can help make these scars invisible and even the skin's surface.
Laser scar removal can improve the aesthetic of scars resulting from:
Injury
Surgery
Acne
Burns
Stretch Marks
What to Expect During Treatment
Laser scar revision is customized to each patient's specific scars and personal needs. Our doctor and technicians will always provide personalized instructions for your laser scar removal, but there are some general guidelines to follow before and after treatment.
Pre-Treatment Preparation
Some habits and behaviours going into your laser treatment will make the results more effective. We may need to reschedule an appointment if the scar being treated is not appropriate for laser application. You can help get your body ready for a successful scar revision with the following things:
Avoid excessive sun exposure. This includes sunburns and excessive tanning. Use sunblock before and after your laser scar removal. Sunburned skin around the treatment area may prevent us from going ahead.
Don't use skincare products containing retinol or glycolic acid 2-4 weeks before your procedure.
Avoid aspirin, supplements, or medications that can slow the healing process.
Ask for antibiotic medication if you are prone to cold sores and receiving laser treatment on the face.
During the Laser Treatment
The process of making a scar almost completely invisible can take multiple sessions. It is common for most patients to receive 3 treatments for best results. Receiving laser scar removal at our clinic is separated into 3 general steps:
Sanitization & Numbing: after the treatment area has been sanitized we will apply a numbing topical cream to the scar and skin. This cream will reduce discomfort before and during the procedure. For more sensitive patients, we offer ProNox gas sedative, just like you might receive at the dentist.
Laser Application: the precision laser is moved back and forth over your scar, softening the tissue and making the mark less noticeable. When necessary, we cool the area with water and saline solution.
Barrier Treatment: following the laser treatment, we'll apply Aquaphor, a topical barrier, over the skin to protect the area and help your skin heal.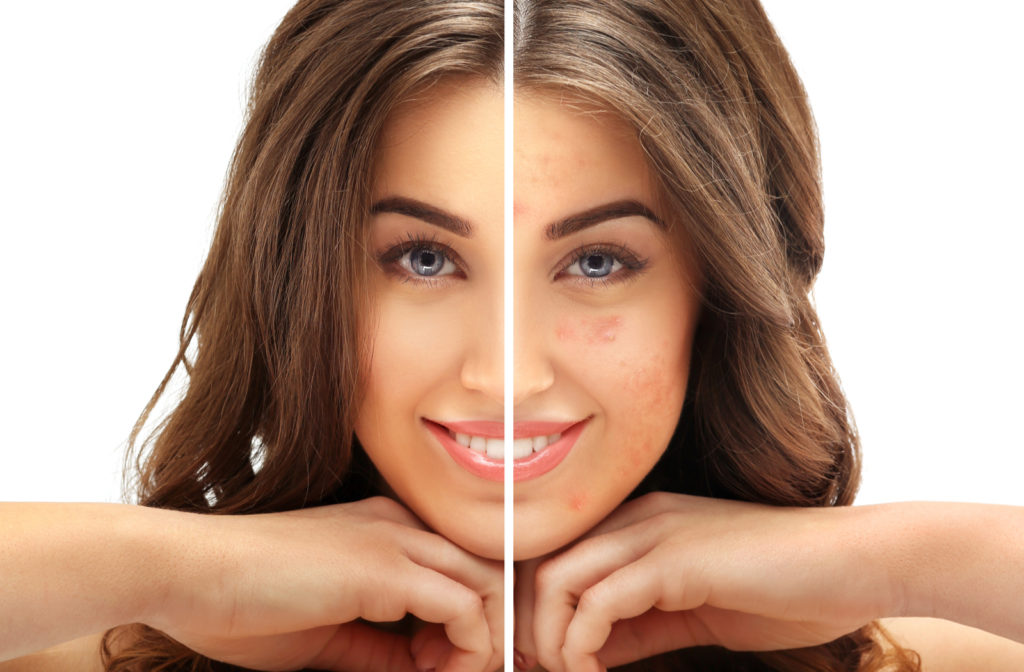 Recovery Stage
After treatment, you can expect a set of instructions and guidelines for a healthy recovery and great results. Laser scar removal can take several treatments for a completely invisible look. Recovery timelines are affected by the severity of the scar being treated and your behaviour following a session with us.
Expect 3-10 days for the skin to completely heal. But these guidelines will help you recover faster with fewer complications:
Avoid direct sunlight for 4-6 weeks after laser treatment
Wash the treated area daily, and apply moisturizer
To reduce swelling, apply a cold pack or cold press to the area
Avoid make-up for several days for facial scars
Take pain medication when required
Boost Confidence with Laser Treatment
No matter how old or prominent a scar is, we can help make it less noticeable. Laser scar treatment targets scar tissue to make the skin smoother and more similar to your natural pigmentation. Improving the aesthetics of a scar is both a safe and effective way to feel more confident about yourself.
Scars may leave an unwanted memory of the past. But the look you desire and the confidence you want to have can both be achieved with professional laser scar revision. The first step is booking a consultation with experts who can make your skin feel beautiful again.