Have you noticed some areas on your body where the fat just refuses to go away no matter how much weight you lose? The good news is, you're not the only one. Millions of people face this issue, and luckily, there is a scientifically proven treatment to help!
CoolSculpting is the leading non-invasive fat reduction treatment. This treatment can remove stubborn areas of body fat that won't go away with any level of exercise or healthy eating.
Keep reading to learn more about how CoolSculpting works, how successful the treatment is, and how to know if it is the right option for you.
How Does CoolSculpting Work?
CoolSculpting is also known as cryolipolysis, which uses cold temperature to break down fat cells. Fat cells freeze at a higher temperature than others cells, so they are particularly susceptible to the effects of the cold.
CoolSculpting is a treatment based on this idea. When your doctor performs a CoolSculpting treatment, they use a precise temperature to freeze and kill fat cells without damaging any other types of cells in your skin or surrounding areas.
This ensures that only certain cells are targeted, helping your doctor decrease stubborn fat in specific areas.
What Areas Can CoolSculpting Treat?
CoolSculpting can treat several different areas of the body. The areas that CoolSculpting has been proven to reduce fat include:
The upper and lower abdomen
The side of the body between the ribs and the hip (called the flank or love handles)
The inner thighs and outer thighs
The chin or double chin
The armpit or what is sometimes called "bra fat"
The buttocks
The upper arms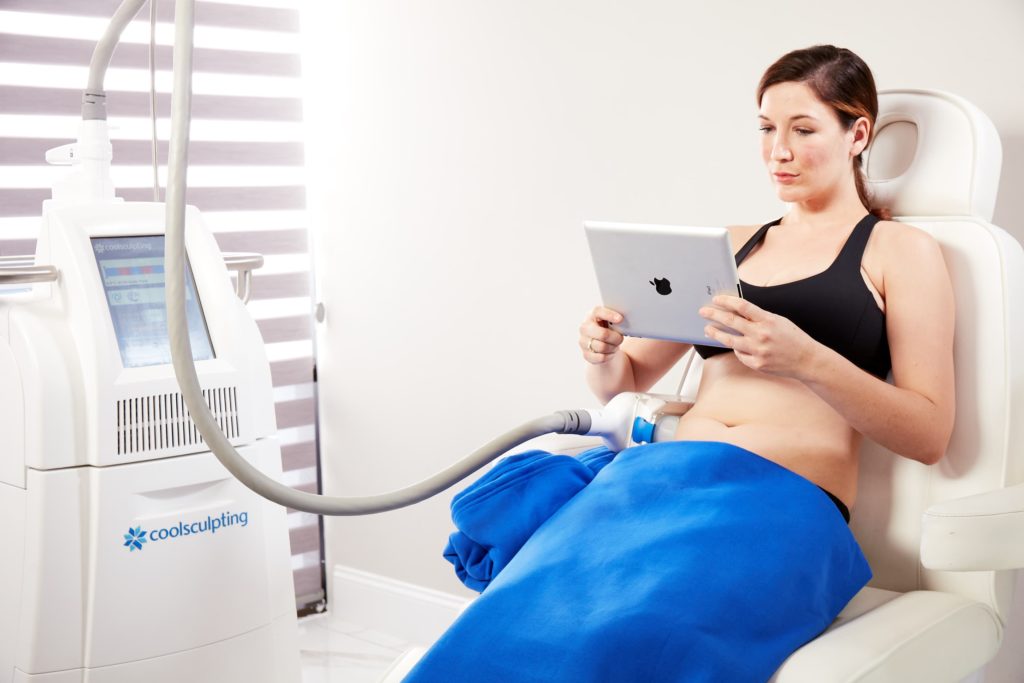 What is the CoolSculpting Process?
If you're interested in CoolSculpting and wondering what it can do for you, you might be curious about the procedure and what it entails. We have divided the CoolSculpting process into three main sections: The consultation, The CoolSculpting procedure, and post-procedure.
The Consultation
The first step in the CoolSculpting process is easy: finding the right practitioner. To avoid adverse effects, it is essential to book a consultation with a medical professional with extensive training in the CoolSculpting procedure.
During your consultation, your treatment provider will:
Discuss your goals and needs
Assess whether you are a good candidate or not
Design a customized treatment to help you reach your desired outcome
The CoolSculpting Procedure
Once you have received a proper consultation and your medical provider has deemed the procedure right for you, you are ready to receive your first treatment.
A CoolSculpting treatment typically takes anywhere between 30 to 45 minutes. During your treatment, your practitioner will:
Select an applicator based on the size and location of the area you are getting treated
Place this applicator and a gel pad on the treatment area. The gel pad protects the skin while the applicator delivers controlled cooling to the targeted fat, which freezes the fat cells and causes cell death
Massage the treated areas, which breaks up and further destroys the frozen fat cells and helps your body begin to get rid of the fat
The CoolSculpting procedure is non-surgical and non-invasive, meaning there is little pain involved in the process. However, some patients report the following sensations during treatment:
An intense cold feeling
Numbness to the treatment area
Pulling or tugging
Aching or cramping
Mild pinching
If at any point you feel uncomfortable during your procedure, let your technician know.
Post-Procedure
After your procedure, your body will slowly start to dispose of the dead fat cells, reducing the fat in whichever area you had treated. On average, most patients see results between 1 to 4 months following treatment.
Most patients can return to their normal activities immediately after the procedure. However, you may experience side effects and symptoms such as:
Redness
Swelling
Bruising
Firmness
Tenderness
Cramping
Itching
Skin sensitivity
Numbness
If any of these symptoms are severe or lasts more than a few weeks, contact your doctor.
How do I know that CoolSculpting Works?
Several studies have been conducted showing that CoolSculpting does, in fact, work. Specific stats that you may find helpful are:
Tips for Success
Although CoolSculpting is a successful treatment on its own, there are several steps you can take to ensure positive results. These include:
Maintaining a healthy diet & exercise routine. CoolSculpting is not a weight-loss procedure but rather a supplement to your journey
Remember that everyone's body is different, and treatments will work differently depending on your body type
Make sure you are receiving the treatment from proper technicians who are trained in the CoolSculpting procedure to lower adverse effects such as uneven fat reduction
If you're interested in CoolSculpting and what it could do for you, contact us today!