Did you know that many visible signs of ageing, from wrinkles to under-hydrated skin, are due to volume loss? This is because as we age, our facial tissues lose volume, allowing space for lines and wrinkles to set in.
Unfortunately, when it comes to reducing the effects of ageing and creating smoother, younger-looking skin, there's only so much everyday skincare products can do. That's why dermal fillers are quickly rising in popularity.
Dermal fillers can replace lost volume to help smooth wrinkles, plump the lips, and restore a more youthful appearance.
What Are Dermal Fillers?
Dermal fillers are FDA-approved "gel-like" substances that are injected beneath the skin. They are commonly used in the face and lips to restore lost volume, smooth and hydrate the skin or enhance facial features.
How Do Dermal Fillers Work?
If you're interested in dermal fillers, you should know that many different types of fillers are on the market. Quality fillers contain hyaluronic acid, a natural substance in the human body responsible for hydrating the skin.
If hyaluronic acid is injected underneath the skin, it increases the volume of that area by binding to water molecules. In addition to adding volume, hyaluronic acid also boosts skin's elasticity, firmness, and plumpness.
Why Do People Get Dermal Fillers?
People turn to dermal fillers to reduce the effects of ageing or to enhance their natural features. Some of the most common reasons people choose to undergo this cosmetic procedure include:
To add volume to lips
To smooth eye-area wrinkles
To soften lines on the face
To lift the eyebrows
To smooth forehead wrinkles
To lift & contour cheeks
To sculpt the jaw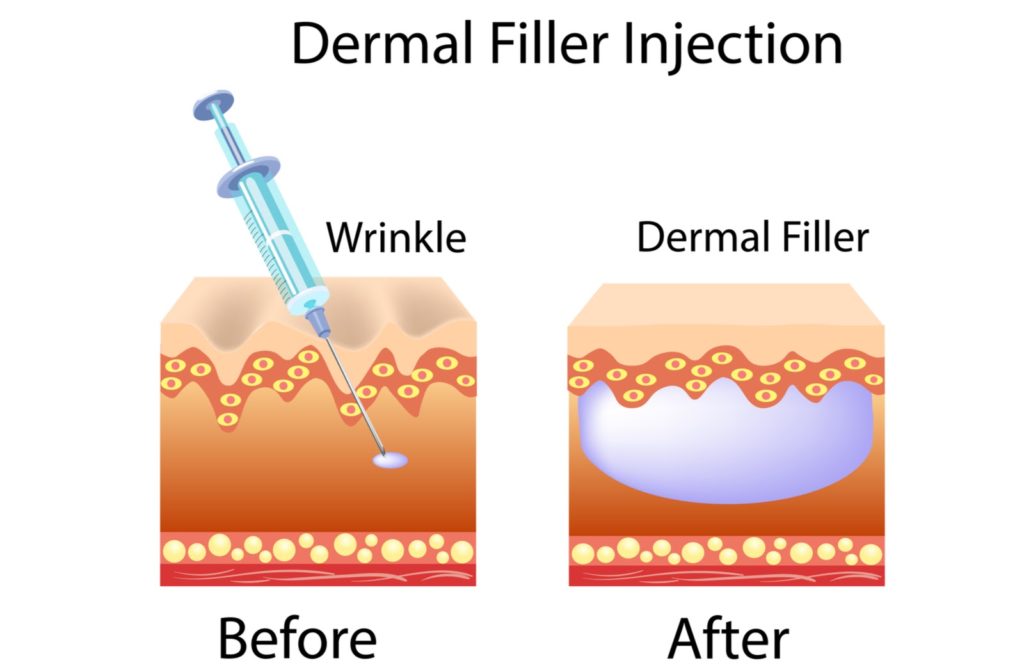 What are the Benefits of Dermal Fillers?
The use of dermal fillers is on the rise in Canada, with more and more people choosing to use fillers as an alternative to plastic surgery.
To understand why dermal fillers are such a popular procedure, we've compiled a list of some of the many amazing non-aesthetic benefits dermal fillers have to offer.
Dermal fillers are:
Cost-effective
Non-invasive
Last 6-12 months on average
Require no recovery time
Have minimal risk
Instant results
Are Dermal Fillers Right For Me?
If you are looking to enhance your natural look without the hassle of surgery and want to see immediate results, dermal fillers may be the right choice for you.
What Are The Side Effects of Dermal Fillers?
According to Health Canada, the following side effects are associated with dermal fillers:
Pain
Bruising
Redness
Tenderness
Swelling or edema
Raised bumps or lumps
Abscesses or sores
Infection
Asymmetry
Skin discoloration
Allergic reaction
How can I Tell if My Symptoms are Serious?
The side effects associated with dermal fillers usually go away in about 24 hours but may last 1 to 2 weeks. If you are experiencing any of the above symptoms for a period longer than 2 weeks, or they increase in severity, contact your practitioner as soon as possible.
Preventing Side Effects
Adverse side effects caused by dermal fillers are often a result of improper technique. The best way to ensure that side effects are minimized is by receiving treatment from medical professionals.
Of course, with every injection procedure, there are unavoidable side effects that you may experience. Luckily, you can take the following precautions to lower your risk of experiencing specific side effects:
Apply an ice pack to the affected area to reduce pain and swelling
Avoid the use of unnecessary medications and products around the time of the procedure
Avoid overuse and repeated movements of the site you are getting treated
Choosing a Provider for Filler Treatments
Dermal fillers are easily accessible, meaning there are many providers available to perform this procedure.
To reduce your risk of severe side effects, this cosmetic procedure must be performed by an expert injector or under physician supervision. These practitioners have years of medical training and know-how to avoid and minimize adverse effects.
What to Expect During Treatment
Dermal filler injections are non-surgical and can easily be done in one treatment. If it is your first time receiving a dermal filler treatment, your practitioner will have a pre-treatment consultation with you to determine your needs and wants, followed by the treatment itself.
Pre-treatment consultation
During your consultation, your practitioner will evaluate your area of concern and review your medical history.
Even though there are minimal risks and side effects associated with dermal, it is essential to disclose your medical history before treatment. This is because certain allergies, medical conditions, or medications can impede results and affect your safety.
During Your Treatment
A typical dermal filler treatment includes the following steps:
Your practitioner will clean the area you are getting treated
Depending on the treatment, you may be given a topical anesthetic to numb the area
Your provider will then inject the dermal filler strategically beneath the skin to achieve the desired outcome discussed in your pre-treatment consultation
Post Treatment
Depending on the area treated, you should be able to notice results immediately after receiving dermal filler injections.
Following your treatment, your practitioner will outline any precautions you should take, although generally, you should be able to assume normal activities right away.
If you have any concerns or questions about dermal fillers, contact us today. It's time to explore what dermal fillers can do for you!