We all want to look and feel our best. Unfortunately, rosacea is a common condition that affects millions of Canadians. But there are laser treatments available for rosacea and other skin conditions. In the hands of qualified professionals, these treatments are safe and effective.
There are plenty of tips on dealing with rosacea around the internet. Plenty of the advice is helpful, such as trying to not touch your face, avoiding triggers, or creams and ointments for healthy skin.
After a quick review of rosacea, this article explores laser treatments for the condition.
What Is Rosacea?
No specific test allows a doctor to diagnose rosacea. Your doctor bases their diagnosis off of a physical examination and your past symptoms. In some cases, the doctor may order other tests to rule out a separate condition like lupus or psoriasis.
Unfortunately, there is no cure for rosacea. The treatments—medication or laser therapy—all typically revolve around symptom management and controlling the signs of the condition. Some people experience it for weeks or months at a time before it goes away for a period of time.
Symptoms
Rosacea isn't life-threatening and doesn't typically pose a risk for severe permanent damage. However, it can be a hard hit on a person's self-confidence. This could be magnified in more severe cases of this chronic condition.
Common symptoms and signs of rosacea include:
Visible veins: Spider veins/ broken capillaries sometimes appear in a person's cheeks or nose.
Blushing or flushing: Rosacea may appear as blushing or flushing in the central part of your face. This can sometimes be missed in examining darker skin, which is another good reason to see a knowledgeable doctor.
Ocular problems: Eye-related conditions can be common in someone dealing with rosacea. If your eyes are involved in a flare-up, your dermatologist may send you to an eye doctor because of the specialized area of the body.
Bumps: Pimple-like bumps can cause discomfort at times. These can make a person feel self-conscious and mistaken for acne.
Because of the similarity that many skin conditions may share, it's important to see a doctor if you notice any unusual spots or blemishes on your skin.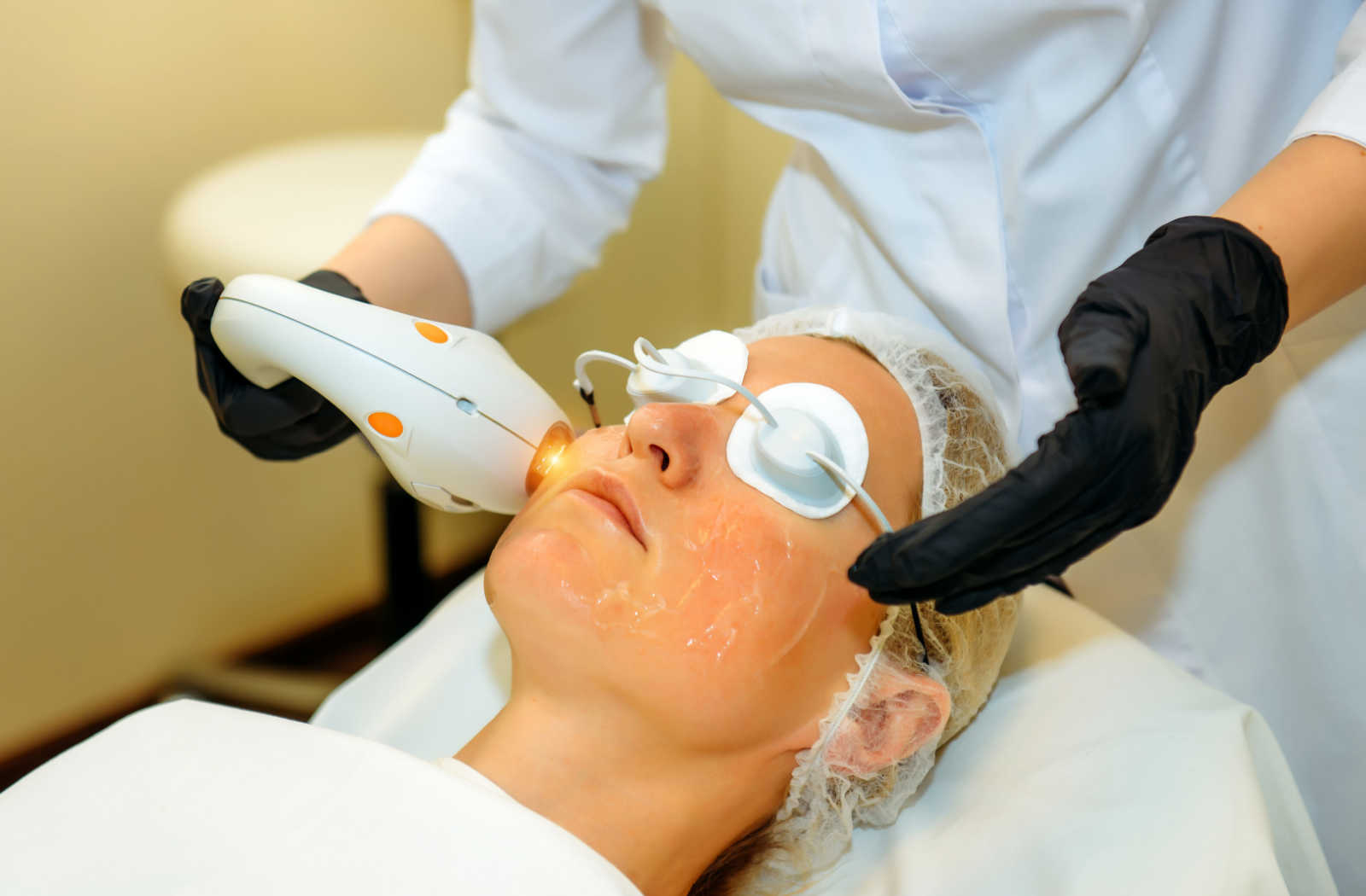 Laser Treatment for Rosacea
The aspect of the rosacea that the doctor is targeting typically determines the ideal type of laser for the treatment. 4 common lasers include:
Erbium YAG Laser
Erbium YAG lasers (Er: YAG) are one type of tool used in dermal resurfacing. This solid-state laser effectively treats conditions from rosacea to facial wrinkles to non-melanoma skin cancers.
Pulsed-Dye Laser
A pulsed-dye laser uses light converted into heat to treat several skin conditions, such as rosacea, keloids, or port wine stains. It gets its name from the organic dye solution used to get the laser effect.
Co2 Laser
The Co2 laser emits a wavelength of 10,600 nanometers, which results in the ablation of the top layer of skin. There are a few types of Co2 lasers that achieve their results differently. Your doctor can determine which is best for you.
Intense Pulsed Light (IPL) Therapy
You may have heard of IPL therapy as an effective treatment for dry eye disease. But it can also be an effective treatment for skin conditions, such as rosacea or splotches on the skin.
It's sometimes called photofacial therapy. Unlike lasers, IPL therapy uses a single wavelength of pulsating light to target multiple skin conditions at the same time.
Fotona Laser Treatment
Zulu Medical Cosmetics is proud to offer many cutting-edge anti-aging technologies to keep you looking young and healthy longer. One specific laser treatment they offer is Fotona laser treatment.
This is an Er: YAG laser that can penetrate the skin and target the problem, whether acne, skin texture improvement, or a condition like rosacea.
Who Should Get Fotona Laser Treatment?
Before getting any kind of laser treatment for rosacea, you'll need to sit down and discuss it with a doctor or laser technician. Like any medical procedure, it isn't without requirements. Your doctor will likely ask you several questions about things like your medical history or current medications.
Suppose your doctor thinks that Fotona laser treatment is a better option than other laser treatments or medication. In that case, they can review the advantages and any disadvantages with you.
Learn About Your Laser Treatment Options
The truth of the matter is that beauty is much more than how our skin looks. But if we're being honest, it's easy to feel self-conscious if our body has unusual marks or signs. If you've got rosacea or anything else you're not happy with, contact us today.
Our professional team can answer your questions and book you in for a consultation with the doctor or one of our qualified laser technicians.