Your skin can lose its firmness with time, but professional treatment can help refine and define your face. Dermal fillers can help you achieve your desired look, but how can you prepare for this treatment?
Continue reading to learn more about dermal fillers, including how they work, how you can prepare for your treatment, and what to expect from this process.
What Are Dermal Fillers?
People have received dermal fillers for years to achieve a more youthful look. Fillers are less expensive than a traditional facelift and can fill lines and wrinkles in less than 30 minutes.
There are 3 crucial elements related to skin tightness: collagen, hyaluronic acid, and elastin. Together, they help keep your skin's surface smooth and firm, but these elements can lose strength with time.
Your skin loses its elasticity as you age, becoming less smooth and firm. Dermal fillers help your skin by strengthening these 3 components. Fillers plump up your skin tissue to help shrink wrinkles, leading to a more youthful appearance with firmer skin.
Some common dermal filler brands include:
What Can Dermal Fillers Help Address?
Dermal fillers can benefit your look in several ways. They can help:
Add volume to lips
Smooth eye-area wrinkles
Soften lines
Lift eyebrows
Lift & contour cheeks
Sculpt the jaw
This treatment can help restore volume and improve your skin's hydration and texture. When you receive dermal fillers, how do they work?
How Do Dermal Fillers Work?
Dermal fillers help fill lines and creases in a specific area. These fillers act as volumizers, plumping your cheeks, chin, jawline, and temples. Another benefit of this treatment is that it can help plump your lips.
Filler treatment is quick and easy. You receive injections in specified areas, and you should see fast results. Dermal fillers can help improve your skin, but it has some potential risks.
Dermal Filler Risks
Dermal fillers are safe, but side effects can still happen. Some possible risks include:
Skin irritation
Redness, swelling, & bruising
Irregular skin firmness
Infection
Allergic reaction
How Long Till You See Results?
You should see immediate results after receiving an injection. You may experience minor redness and swelling, which typically lasts 24 hours.
Dermal fillers can help contour, define, and refine your face. If you're interested in this treatment, how can you prepare for an injection?
How Can You Prepare for Dermal Fillers?
You receive dermal fillers during an in-office visit. This treatment is non-surgical and doesn't require much preparation. However, you should avoid certain substances.
Refrain from using other skincare products and ingesting anything that can thin your blood. The best way to prepare for your treatment is to speak with your skin care professional, but consider avoiding the following:
Medications like asprin & ibuprofen
Retinol or anti-ageing creams
Waxing or hair removal
Alcoholic beverages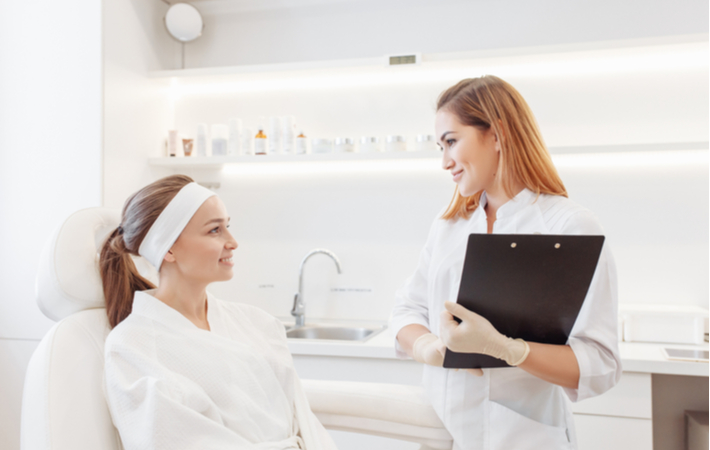 What Should You Expect During Treatment?
The overall dermal filler process happens quickly; you can refine your face in a single treatment. You'll need a pre-treatment consultation before receiving an injection, where a professional will determine your eligibility for this procedure and which filler is best for your needs.
Afterward, you'll receive injections in your specific treatment areas.
Consultation
Your filler process begins with an in-office consultation where you and a trained professional evaluate your concerns and medical history. While the risk of complications is low with dermal fillers, your injector needs to know about any potential factors that may impact your eligibility.
Your treatment can begin if you're eligible for dermal fillers.
Treatment
Your injector will clean the treatment area before beginning this procedure. You may receive a mild anesthetic to numb this area before treatment begins. You'll receive a precise amount of filler beneath your skin.
You should notice visible improvement immediately, depending on the type of filler and the areas treated. You may experience slight bruising or swelling, but these common side effects fade quickly.
This treatment doesn't require a lot of recovery time. You can get back to your normal routine almost immediately. However, your injector may tell you to avoid strenuous activity for a day after your injections.
How Long Do Dermal Fillers Last?
How long your filler lasts depends on the product, treatment area, and yourself. The denser the injection and the deeper it is placed, the longer it will last. You can maintain your results by receiving repeat treatments.
Hyaluronic dermal fillers last the shortest, wearing off within 6 to 24 months. Synthetic fillers don't absorb into the body, so they tend to have a longer lifespan. Your dermal filler provider can decide what type of filler is best for your needs.
Love Your Skin
If you want to enhance the way you look, dermal fillers can help firm and smooth your skin, offering a more youthful appearance. If you're interested in dermal fillers, contact your skin care professional today.