Your skin changes with time, even when you follow a regular skincare routine—skin can lose its firmness, and lines and wrinkles can develop. While there's nothing wrong with these changes, they can affect your confidence.
You don't need to commit to surgery to obtain plump, healthy skin—treatments like PRP facials can help address these natural changes.
What is a PRP Facial?
PRP (platelet-rich plasma) facials are a minimally invasive way to achieve firmer skin, improving collagen and elastin production and reducing fine lines and wrinkles. This treatment helps improve skin tone and texture while boosting collagen and elastin.
Collagen is an essential protein that helps support tissue in your skin, tendons, and bones. Elastin is another protein in your body providing elasticity to your skin, lungs, and blood vessels. With time, your body makes less collagen and elastin, which can lead to wrinkles and sagging skin.
PRP facials involve using your blood to inject your skin with platelet-rich plasma. The platelets in this treatment are essential for rejuvenating your skin.
What are Platelets?
Your blood contains many different cells, including:
White blood cells
Red blood cells
Platelets
Platelets are essential for protecting your health. They form blood clots that stop or slow bleeding. Additionally, they help wounds heal, like a cut on your finger.
When separated from the other parts of your blood, platelets can help rejuvenate your skin.
What are the Benefits of a PRP Facial?
PRP facials have many benefits—they can:
Plump skin
Diminish acne scarring
Improve your complexion
Reduce wrinkles and fine lines
Reduce creases in your skin
A PRP facial helps improve collagen and elastin production to increase cell growth, plumping your skin to reduce wrinkles and treat sun damage and scarring.
Your skincare expert can recommend a treatment plan to help you obtain your desired skin results. You may receive PRP facials alongside other skincare treatments to improve your results if necessary.
PRP Facial Risks
You need to get your blood taken for a PRP facial, so this treatment may not be ideal if you're afraid of needles. While the procedure itself is safe, you may experience minor side effects.
Your treatment provider may recommend more intensive treatments if your skin has a lot of sun damage or you have loose skin.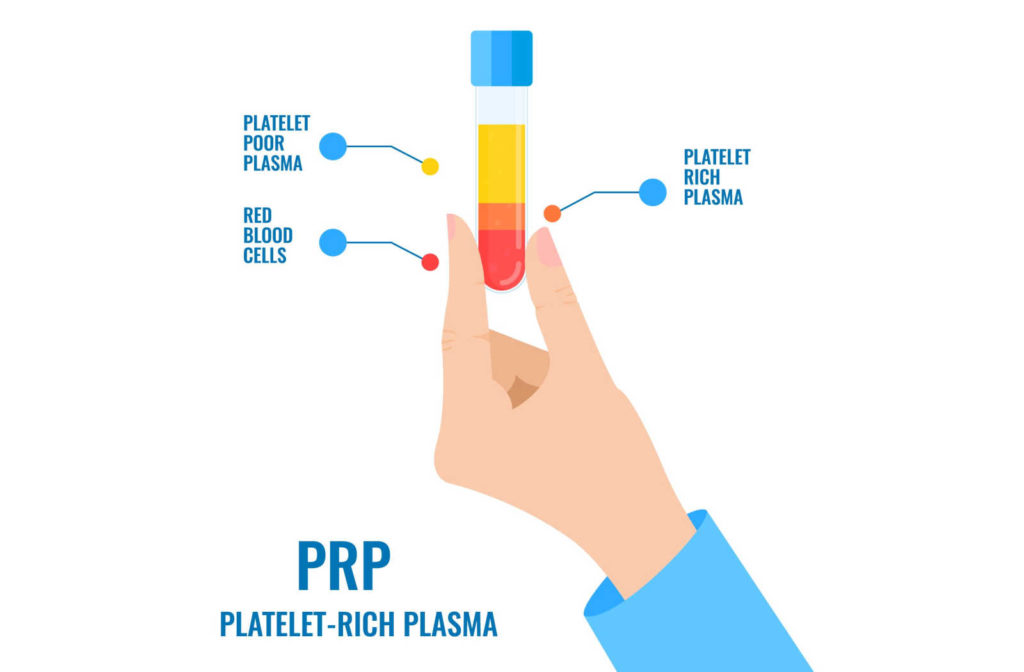 How Do PRP Facials Work?
PRP facials involve using the platelets in your blood to boost your body's healing process. During your appointment, your treatment provider draws blood, prepares it for treatment and injects it into targeted areas of the skin to improve collagen and elastin production, skin hydration, and skin cell production.
You can expect a 3-step process when you receive a PRP facial:
Blood is drawn from your arm: Your treatment provider takes a small amount of blood from your arm to begin your facial.
Blood is separated: Your blood enters a device called a centrifuge, a medical device that separates the necessary platelets from the rest of your blood.
PRP injections begin: Your treatment provider injects the platelet-rich blood into targeted areas of your face.
This whole process can take around an hour, providing lasting results. The benefits of this treatment aren't permanent though—you'll need additional treatments in the future.
Are PRP Facials Safe?
Blood as a rejuvenation is not a new concept. It has been used for centuries to rejuvenate mind, body and spirit. In modern medicine, the medical literature supports that PRP facials are safe.
There aren't immediate risks to PRP facials besides minor side effects, such as discomfort, bruising, and swelling. However, these symptoms will go away with time as you recover.
PRP facials have many benefits, but they aren't for everyone. Before you commit to treatment, you'll have a consultation with your skincare expert, who can determine your eligibility.
This treatment is safe for many people, but it may not be ideal if you have:
Hepatitis C
HIV or AIDS
Cardiovascular diseases requiring blood thinner treatment
Blood cancer
Skin cancer in the treatment area
Boost Your Confidence with PRP
The secret to plump, firm skin can come from a little blood. PRP facials can help boost your confidence, reducing fine lines and wrinkles. If you're looking for a minimally invasive way to maintain your skin—a PRP facial may be right for your needs. Your treatment provider can help identify your eligibility and answer any questions you have. Contact Zulu Medical Cosmetics if you're interested in PRP facials and schedule a consultation.