Doctor-Assisted Weight Loss
Managing your weight and overall health involves a lot of daily decisions. From researching to implementing; eating the right foods to establishing an exercise routine—it can be overwhelming alone. So why not enlist support with doctor-assisted weight loss?
In addition to developing a weight loss plan that works for your health, your doctor can prescribe treatments to help you reach your goals. So what medications and therapies can your doctor offer?
Oral Medication
Various consumables are on the market for weight management, but only a doctor can prescribe oral medications. Some drugs are manufactured for weight loss, while others have weight loss as a common side effect.
Rybelsus, for example, is a prescription drug used to help manage blood sugar levels in adults with type 2 diabetes. Although not intended for weight loss, it can lead to weight reduction. The drug is taken in tablet form daily.
Prescription medications intended for weight loss and approved in Canada include Contrave and Xenical.
Contrave combines low doses of naltrexone and bupropion to control hunger and cravings. Contrave is taken as an oral tablet. Dosage can vary, with a maximum recommended dose of 2 tablets twice daily. Studies have found people can lose 4–5 kilograms (8–11 pounds) with Contrave.
Xenical (orlistat) prevents enzymes (called lipases) from breaking down consumed fats to decrease the amount of fat your body absorbs. Xenical does not decrease or change your appetite. Instead, your body takes in fewer calories, thus leading to weight loss. It can also help control blood sugar, blood pressure, and cholesterol levels.
Xenical is taken in capsule form during or following meals. Studies have found people can lose 3–3¼ kilograms (6–7 pounds) with Xenical.
Injectables
Injectables may be administered directly by your doctor or available as self-injectables.
Saxenda is a GLP-1 therapy that decreases appetite to control the amount of food you consume. It mimics a natural hormone (glucagon-like peptide-1). Saxenda can also positively affect other health factors, including weight circumference, blood sugar, blood pressure, and cholesterol levels.
Saxenda comes in a pre-filled pen that you inject yourself. It's approved in Canada for weight loss. According to some studies, people can lose 4–6 kilograms (8–13 pounds) with Saxenda.
Ozempic is a prescription drug administered with a pen injector. The drug was initially intended for:
Ozempic was FDA-approved for chronic weight management in 2021. Like Saxenda, Ozempic works by mimicking the hormone GLP-1 (glucagon-like peptide-1) that targets areas of the brain that regulate appetite and food intake.
Belkyra (or Kybella in the US) is a chin sculpting injectable for eliminating excess fat (or a "double chin"). The series of injections administered by your doctor dissolves fat around the jawline, neck, and chin. It contains deoxycholic acid, a manufactured version of a natural body substance responsible for breaking down fat.
For best results, you will need a minimum of 2 treatments, with up to 6 treatments. Doses are administered 6–8 weeks apart.
Customized IV Therapy
IV vitamin drips have been around since the 1970s. Still, they have gained recognition in recent years, in part due to celebrity endorsements. But IV therapy is more than a fad or limited to hangover cures. Customized IV therapy bypasses the digestive system to deliver the nutrients you need directly into your bloodstream.
REVIV Infusions contain nutrients, vitamins, and minerals to help you feel your best by boosting energy or detoxifying your system. Additionally, combining IV therapy with REVIV Genetics can give your weight loss journey an advantage.
The REVIV Genetics Weight and Nutrition Analysis is part of our doctor-led consultative approach to wellness. We analyze 54 genes to develop an easy-to-follow nutrition plan. We determine weight gain factors for what you should (or shouldn't) eat to help you lose weight and support your overall health.
With a deeper insight into your genes, your doctor can recommend lifestyle adjustments, IV therapy for boosting metabolism, and nutritional supplements personalized for your unique body. Your doctor can provide a breakdown of your body's ideal ratio of carbohydrates and fats to assist in weight loss.
The Weight and Nutrition Analysis also includes:
A personalized food table
Breakdown of food intolerances
A customized meal plan with 2 weeks of recipes
Daily micronutrient requirements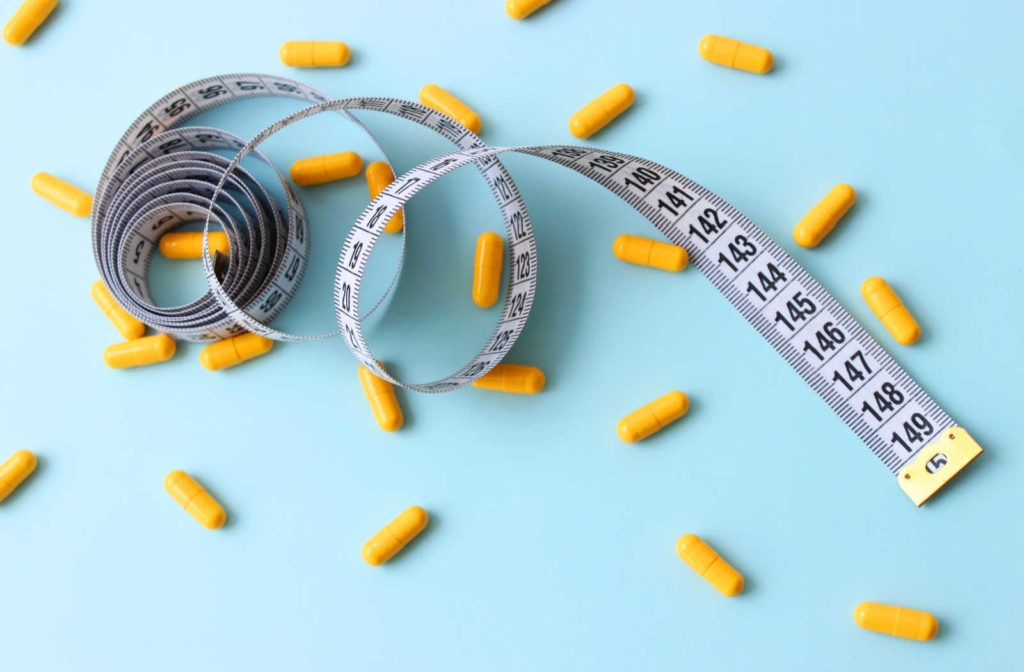 Vitamins & Supplements
Vitamins and nutrients are essential for health. Most Canadian adults consume enough food to exceed their energy needs but not enough to meet nutrient needs. Quality is always more crucial than quantity; you need the correct mix of vitamins and minerals to support healthy weight loss.
Customized vitamins and supplements help support body functions so you can stay on track with your weight loss regime.
Slimboost is a vitamin shot from REVIV designed to stimulate your metabolism. It contains amino acids, vitamins, and antioxidants to help regulate sleep, mood, and appetite so you can focus on your health. Vitamin shots improve absorption, so you don't lose much-needed vitamins from pills or food passing through your digestive system.
Discuss Your Options
Weight loss is not a journey you need to take alone. Consulting with a doctor and discussing personalized treatments can help boost your chances of success. Contact our team at Zulu Medical Cosmetics today to learn more about how we can help you.