Committing to losing weight is a process that requires hard work and patience. Your decision to lose weight may come down to body wellness after discussing with your medical professional or a necessary confident booster.
When losing weight, stretch marks can be a concern for some people. Let's examine whether stretch marks go away when you lose weight and how Morpheus 8 and laser treatment can help.
Understanding Stretch Marks After Weight Loss
Every person's journey with weight loss is different, and depending on their unique situation, stretch marks can make an appearance. While some people may embrace their stretch marks, there's nothing wrong with seeking treatment solutions to help manage them.
Stretch marks can occur when your skin rapidly stretches or shrinks and usually appear as bands of lines lining your skin.
Some common areas stretch marks can appear following weight loss include:
Stomach
Breasts
Upper arms
Thighs
Buttocks
Stretch marks are common, and around 90 percent of people have them. They most commonly appear during or after pregnancy or other scenarios of rapid weight change.
The appearance of your stretch marks can also depend on various factors such as:
Your natural skin tone
Your skin's health and elasticity
The area affected on your body
Do Stretch Marks Disappear After Losing Weight?
You can have more noticeable stretch marks depending on how much weight you lose and if your skin rapidly stretches or shrinks.
Stretch marks are usually there to stay and remain on your body after weight loss. While stretch marks aren't harmful to your health, they can be permanent but may change and fade over time.
Understandably, some people may want a boost in confidence and get rid of them. The good news is there are treatment options available to you.
Managing Stretch Marks with Morpheus 8 & Laser Treatment
Following weight loss, you may want to commit and get rid of the lingering stretch marks. In that case, there are innovative treatment options available to you.
Morpheus8
Morpheus8 is a safe and effective minimally invasive treatment option that tightens and smooths skin on the face and body.
This treatment option is a non-surgical modular radiofrequency (RF) treatment that remodels and improves skin appearance to refine irregularities such as stretch marks. Morpheus8 works by combining micro-needling and radiofrequency to stimulate collagen and elastin production.
Morpheus8 is FDA-approved, and Health Canada certified, and you'll most likely see improvements in your skin after 1 to 3 treatments.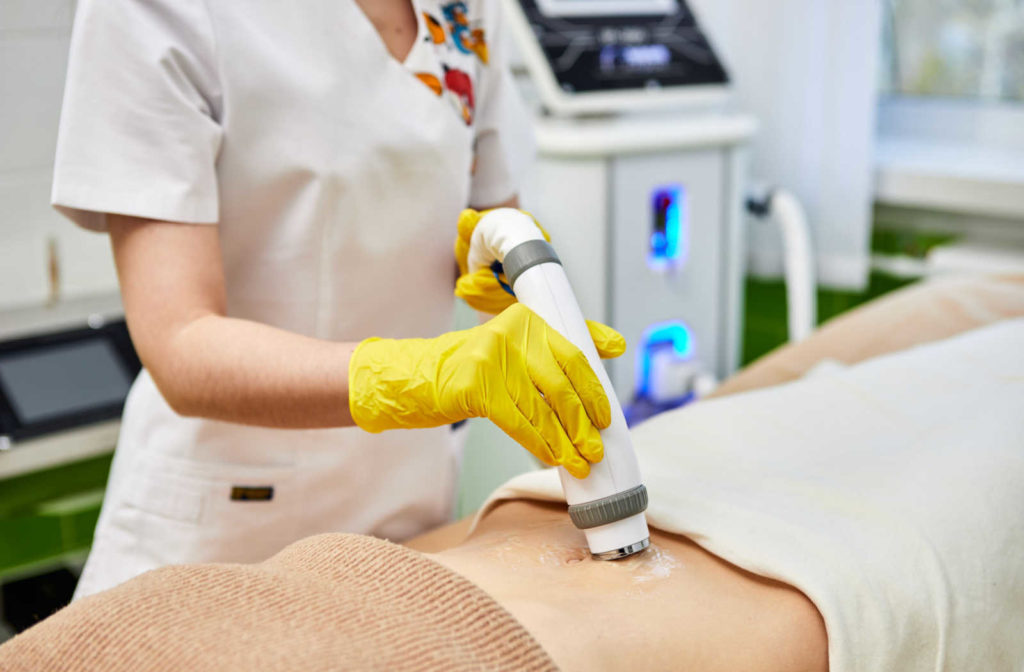 Laser Skin Tightening Treatment
Skin tightening is a non-invasive laser treatment that stimulates your skin's natural collagen and elastin production. This skin tightening procedure can focus on stretch marks resulting from weight loss.
The Fotona laser allows your medical professional to perform this process without damaging the outer layers of the skin. During treatment, you may feel a warm sensation and have minor redness immediately following the procedure. Skin tightening works the top layers of the skin, and any redness should go away within a few hours.
Custom Scar Revision
Scars caused by stretch marks can affect your self-confidence—custom scar revision can help improve the look of your skin and instill confidence.
The Fotona SP Dynamis laser allows customized scar treatments for your specific needs. The procedure works through breaking up and softening dense scar tissue, removing raised tissue, and lifting indentations in the skin.
While it may be impossible to fully remove a scar, custom scar revision provides significant improvements in the majority of cases.
Get a Confidence Boost
Stretch marks can be a touchy subject for some people, but there are several treatment options available to help instill you with confidence. Your medical professional will be able to walk you through your options and prepare a personalized treatment plan for your unique needs.
Book an appointment with your medical professional to explore your options and get the best stretch mark treatment for you.