Hair loss and thinning are common issues many people face throughout their life. Our hair can be such a big part of our identity, so it's no surprise that you might want to protect it as long as possible.
Thanks to modern medical cosmetics, Genetic testing can tell us so much about our bodies. Our DNA is like a secret code that determines innumerable outcomes about our health and wellness, including hair loss and thinning.
DNA testing has so many benefits beyond finding your long-lost ancestors. It tells a story about family history that could have an impact on your health.
Knowing Your Roots
No matter your gender, genetics can play a big role in hair loss and thinning. Men and women both experience hair loss. "Knowing your roots" has a double meaning in medical cosmetics—your family roots can have a direct impact on your hair roots!
What Causes Hair Loss?
Many people will experience hair thinning and loss as they age, but other factors can play a role in how quickly that happens. Genetics is one part of that, but hair thinning and loss can also be caused by issues like high stress levels, poor nutrition, medical conditions, and medications.
You can start by determining your risk level of hair loss and thinning with a genetic test, and take proactive measures to help reduce the rate at which you lose your hair.
'The Baldness Gene'
You may have heard that the "baldness gene" always comes from the mother's side of the family—but it's more complicated than that. Hair loss genes are inherited from both sides of the family. If one side is more likely to have hair loss than the other, you could still inherit early hair loss and thinning. If both sides are genetically predisposed to hair loss and thinning, you are likely to inherit that gene.
One possible genetic condition you could inherit is called alopecia. This autoimmune disorder can cause hair to fall out rapidly in clumps. Knowing ahead of time if you have this condition can help you make adjustments to prevent its hair loss effects.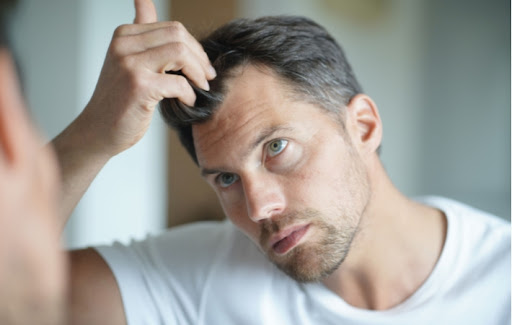 How Do We Test for Hair Loss?
Zulu Medical Cosmetics uses a test called REVIV Genetics that uses a simple mouth swab to collect your DNA. Then, it is sent to a lab for analysis. When it comes back, we interpret the readings and provide you with accurate results that you can use to harness your youth and proactively protect your looks.
The richness and reliability of the insights provided gives you the best possible platform to take control of your long- and short-term health through simple lifestyle adjustments and advanced personalized services, such as personalized IV therapy and nutritional supplements.
How Does the Test Work?
Zulu's custom DNA test provides you with a complete health profile. In these analyses, we can determine your genetic predisposition for hair loss.
Promoting Healthy Hair
The genetic testing at Zulu Medical Cosmetics provides rich, reliable results that empower you to control your longterm and shortterm health with simple lifestyle adjustments. You can boost your preventative results with advanced personalized services like IV therapy, nutritional supplements, and restorative hair solutions.
Hair Loss & Thinning Solutions
A customized treatment plan can help you grow healthy hair that lasts into the future.
Platelet-Rich Plasma Therapy (PRP) is made from the regenerative qualities that are already in your body. Your blood contains platelet-rich plasma that aids in repairing and rejuvenating the tissue in your body—and that includes your hair.
The PRP process involves drawing your blood and using it in targeted areas—like your hairline—to promote repair and regeneration. After your blood is drawn, it is put into a centrifuge to separate your plasma from your red blood cells. Then, the plasma is used and applied to areas that need stimulation for growth. The entire process takes around 1 hour, and is minimally-invasive. Discomfort is often treated with Tylenol.
Talk to a medical professional at Zulu Medical Cosmetics if you're interested in learning more about how PRP can help you achieve youthful, healthy hair.
#Hairgoals
Knowing your genetic profile and how you can promote healthy hair growth can help you achieve your hair goals. Contact the trusted medical team at Zulu Medical Cosmetics to learn more about yourself, your family history, and how we can help you achieve your best-looking hair.