It can feel like there's no way to deal with hair loss, but you may not have tried every available option. PRP therapy is a professional approach to treating hair loss, designed to stimulate hair growth in specific areas. If you're interested in this treatment, how does it work?
Learn more about PRP hair restoration, including what it is and how it works.
What Is PRP Hair Restoration?
Platelet-rich plasma (PRP) therapy is a treatment method for addressing hair loss. It involves using a patient's blood for injections into the scalp. The idea behind PRP therapy is that these injections help prevent hair loss by triggering natural hair growth and increasing overall thickness. PRP therapy has been around since the 1980s, helping treat other medical conditions.
Platelet-rich plasma consists of plasma (the liquid part of your blood) and platelets, blood cells that help your body during the healing process. Platelets have growth elements related to cell reproduction, tissue regeneration, and healing in an affected area.
A PRP injection is a solution created from a patient's blood. Your treatment provider forms this solution from a blood sample and injects it into the targeted area. A PRP injection is supposed to increase the number of hormones needed to improve the healing process at the injection site.
What Can PRP Injections Treat?
PRP injections have many medical and cosmetic uses, including:
Tendon, ligament, muscle, & joint injuries
Post-surgery healing
Osteoarthritis
Hair loss
Skin rejuvenation
PRP injections can help address male pattern baldness, helping prevent hair loss and stimulating new growth. Additionally, these injections can benefit hair growth after receiving hair transplants.
How Does PRP Hair Restoration Work?
PRP therapy works by using platelet-rich plasma to stimulate hair growth. Your platelets are blood cells responsible for wound healing, helping form clots and supporting cell growth.
Your treatment provider separates the platelet-rich plasma from your blood using a specialized machine. Afterwards, this plasma goes into your scalp to help stimulate hair growth.
Research suggests PRP therapy works because it addresses areas of inflammation and helps encourage new cell growth and cellular healing. PRP injections may help reduce the inflammation associated with hair loss.
PRP Effectiveness
It's important to note that researchers are still learning and discovering more about PRP therapy and its effectiveness. However, previous studies have found benefits to using this treatment for hair loss.
A 2015 study discovered PRP injections for 3 months helped improve the number of hairs, the strength of the hair roots, and overall hair thickness.
A 2019 study found that PRP injections were more effective for hair growth than rogaine, a traditional treatment. It showed that platelet count in your plasma can impact the effectiveness of PRP injections.
PRP Treatment Risks
Some people aren't eligible for PRP if they have certain medical conditions or other factors affecting them. You may be ineligible for this treatment if you're on blood-thinning medications, smoke heavily, or have a history of substance issues.
Other conditions affecting eligibility for PRP injections include:
Acute or chronic infections
Cancer
Liver disease
Skin disease
Metabolic disorder
Platelet dysfunction syndromes
Low platelet count
Thyroid disease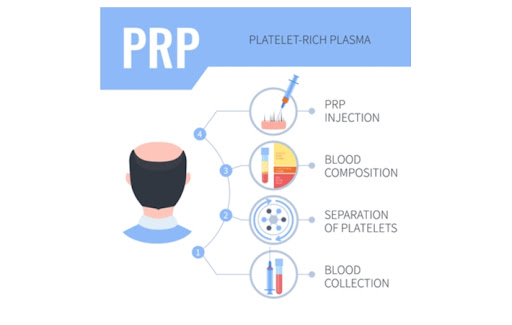 What to Expect During Treatment?
PRP therapy is typically a multi-step process where you receive a specific number of injections every couple of weeks.
Many treatment providers take a multi-modality approach to addressing hair loss. This approach involves using more than one treatment to address hair loss, including IV therapy or supplements alongside PRP injections. Your treatment provider will create a customized treatment plan based on the type of hair loss you're experiencing and your unique needs.
Preparing for Your Appointment
Your treatment provider will provide your preparation instructions after your initial consultation. You may need to avoid taking blood-thinning medication like aspirin or certain vitamins or supplements leading up to your appointment.
Make sure you eat before your appointment. This treatment involves taking blood, and eating will help you avoid lightheadedness after your injections.
The Treatment Process
Your PRP therapy treatment process involves 3 steps:
Your treatment provider draws blood from your arm & places it in a centrifuge. A centrifuge is a machine that separates fluids (in this case, your blood).
The machine separates your blood after 10 minutes, splitting it into 3 layers. These layers are platelet-poor plasma, platelet-rich plasma, & red blood cells.
The platelet-rich plasma goes into a syringe & your treatment provider injects it into areas of the scalp. These injection sites are targeted areas that need hair growth.
While you experience many injections, there is minimal discomfort. You can take Tylenol for any irritation or discomfort after your treatment. There aren't many side effects related to PRP injections because they come from your blood.
Book Your Consultation Today
You don't need to give up if you're losing your hair. PRP therapy at Zulu Medical Cosmetics can help stimulate new hair growth. Your treatment provider can assess your eligibility for this treatment and explain its details. Contact your treatment provider if you're interested in PRP therapy for hair loss.