What is Laser Hair Removal?
Laser hair removal is a medical procedure that removes unwanted hair for an extended amount of time by using a concentrated beam of light to destroy the root of the hair follicles. Pulses of specific wavelengths of light are used to heat the hair follicle until it dies. The light targets the melanin in dark hair so it is absorbed and damages the follicle and slows or stops hair growth completely.
Because the laser used for hair removal is absorbed by darker pigmentation, it may not be the best option for individuals with freshly tanned skin. Additionally, laser hair removal cannot be done on previously tattooed areas.
Up until the last few years, darker skin types have been unable to access hair removal treatments safely, as old technology would cause blisters, burns and hyper/hypopigmentation (discolouring of surrounding skin). Advances in research and development have created newer types of lasers that can now be used on darker skin types safely and effectively.
What Should You Do Before the Procedure?
Before taking part in any medical procedure, always consult your physician or licensed nurse to ensure it's right for you. It's important to review your medical history with a medical professional to make sure laser hair removal is safe for you to pursue. It is beneficial to hear all the risks, possible complications, benefits, and expectations with your health professional that are specific to you.
Before the procedure, you should stay out of the sun as much as possible and use a broad-spectrum sunscreen daily to avoid exposure for at least 6 weeks prior. You should also avoid sunless tanning products, and your physician may recommend a skin-lightening cream if you have a darker skin tone or a recent tan.
You should also avoid waxing or plucking any hair at least 4 weeks before treatment, but fully shave and trim any hair you'd like removed the day before the procedure. Shaving keeps the hair follicle intact below the skin but removes the hair above it which prevents skin damage from burnt hairs on the surface.
Additionally, it is important to discuss any medication you are taking before treatment, as some drugs such as aspirin and anti-inflammatory medication should be avoided.
What Happens During the Process?
To achieve reliable results, laser hair removal usually takes between 6 to 8 treatments. Depending on the area being treated, the time between treatments usually varies. For example, areas where the hair grows back quickly, such as the underarms or upper lip, treatments may be required every 4 to 8 weeks. In areas with slower hair growth, such as the back, treatment may only be necessary every 10 to 16 weeks.
The laser is applied to the skin using a small hand-held instrument, and you will need to wear special goggles to protect your eyes. If you are sensitive to pain, your physician may apply a numbing cream to ease the discomfort. Additionally, depending on the type of laser, a cooling gel may also be applied to protect the skin.
When the laser is applied, the laser will heat the hair follicles and damage them. This may be uncomfortable or slightly painful, similar to an elastic band snap.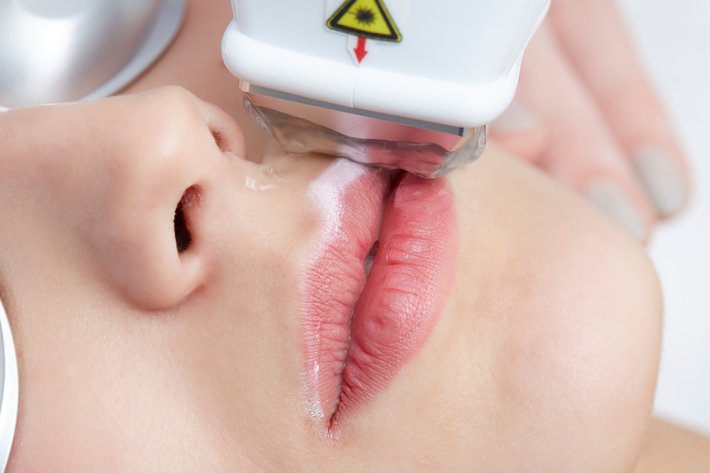 What Happens After the Process?
After the procedure, the hairs affected will begin to fall out over the following weeks. Several treatments are required since hair grows in cycles, and new cycles may promote new hair growth. If the hairs do grow back, they will likely be thinner and lighter in colour.
Side Effects
Skin type, hair colour, and treatment plan all affect how you are going to react to laser hair removal. It is important to follow aftercare instructions and proper skincare routines to minimize the risk of side effects.
The most common side effects include:
Skin irritation, usually consisting of discomfort, swelling, and redness after treatment.
Pigment changes, either lightening or darkening of the skin around the affected area.
Both of these side effects are usually temporary.
How Long Does it Last?
After a full laser hair removal treatment series is complete, ideally you will notice a 60-90% hair reduction (and often more!) in the treated areas. Depending on your skin and hair type, you may require additional treatments for full clearance.
These results have been recognized as permanent, with the exception of the possibility of some new hair growth during hormonal changes (pregnancy or menopause). If this does happen, additional treatments may be required to manage the new hair growth. However, hair regrowth is usually thinner and lighter in colour.
If you are interested in hair removal, visit our clinic to see what the best options for you are!