If you have scars, uneven skin texture, or sun-damaged skin, laser skin resurfacing can help. With help from a trained professional, this treatment can improve the appearance of your skin, providing a more defined and youthful look. While laser resurfacing can be beneficial, is it safe?
Continue reading to learn more about laser skin resurfacing, including how it works, what to expect, and if this procedure is safe to receive.
What Is Laser Skin Resurfacing?
Laser skin resurfacing is a procedure designed to improve your skin texture and appearance. Your treatment provider uses a laser to help stimulate collagen and elastin production in the underlying layers of the skin.
Unlike chemical peels, laser resurfacing is a precise treatment that targets skin in a specific area. Laser skin resurfacing can help reduce the appearance of several imperfections, including:
Acne scars
Fine lines & wrinkles
Sun damage & age spots
Uneven skin tone
Uneven texture
How Does Laser Skin Resurfacing Work?
Laser resurfacing uses brief pulses of light to improve the appearance of your skin, helping treat sun damage, acne scars, and other imperfections. Your technician passes the laser over your skin multiple times during this procedure. You may feel a snapping sensation as the laser heats the skin to promote collagen production.
Different types of lasers can help your technician tighten your skin using different techniques. These lasers allow your technician to reveal healthier skin while promoting collagen and elastin production. Laser resurfacing can happen with ablative or nonablative lasers.
Ablative lasers are a type of wounding laser that removes the outer layer of your skin, called the epidermis. This laser heats the underlying skin, stimulating collagen production. As the epidermis heals, the treated area has a noticeable improvement, appearing smoother and tighter.
Nonablative lasers stimulate collagen production without removing the epidermis. Your technician can use a variety of lasers to help improve your skin tone and texture. This type of laser has a shorter recovery time because it's less invasive.
Laser skin resurfacing can help improve your skin's appearance, but how safe is this procedure? If you're interested in laser treatment, is there a risk of damaging your skin?
Is Laser Skin Resurfacing Safe?
Overall, laser resurfacing is a safe procedure. However, no treatment is without risks. You may experience several side effects after completing treatment.
These side effects include:
Burning
Bumps
Rashes
Swelling
Infection
Hyperpigmentation
Scarring
Redness
Complications are possible, but following your treatment provider's pre and post-care instructions can help reduce your risk. Your technician will explain the overall risks and instructions related to this procedure in your initial consultation. What should you expect during the laser skin resurfacing process?
What to Expect From Laser Skin Resurfacing
Your overall skin treatment can vary based on the method used. Your treatment provider typically has several ways to meet your unique needs. They'll determine the best ways to achieve your desired results during your initial consultation.
Before Treatment
Before beginning your procedure, you'll have an initial consultation with your treatment provider. Your laser technician will explain the overall treatment, discuss your desired results and detail what to expect, including the benefits and associated risks of this procedure. You can bring up any questions or concerns you have during this period.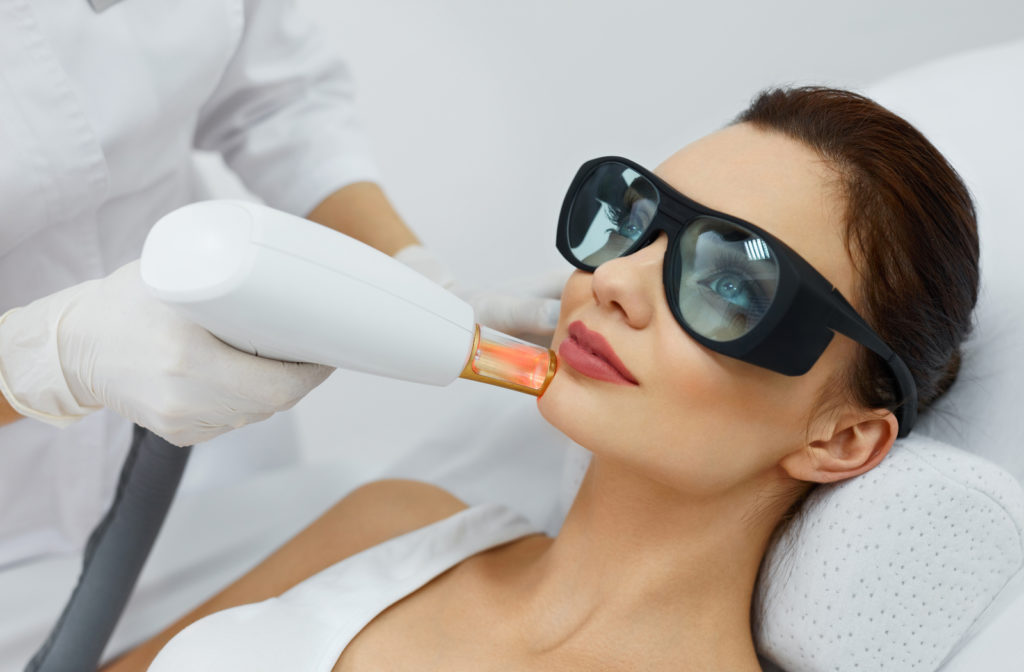 During Treatment
Your procedure begins with the numbing of the treatment area. You'll receive a topical or local anesthetic. Once the treatment area is numb, your laser technician will proceed.
The length of treatment depends on what areas your technician is addressing. You may experience laser resurfacing for any time between 15 minutes to several hours. The laser will pass over several times as your skin heats to promote collagen and elastin production.
After Treatment
Your skin will feel tender, hot or swollen after treatment, but these side effects should resolve within a few days. You'll receive an ointment on the treatment area to help keep your skin protected and hydrated. Afterwards, your technician will provide you with aftercare instructions.
Taking care of your skin is beneficial during the healing process and can help prevent complications. You should diligently follow the instructions given by your treatment provider. Besides following your aftercare instructions, you can do the following to help your skin heal effectively:
Keep your skin clean
Avoid sun exposure & use sunscreen
Moisturize regularly
Stay hydrated
Your healing time may vary between 3–10 days, depending on your treatment. Peeling or reddish-pink skin is common after the treatment, but these effects will subside with time. Contacting your treatment provider is beneficial if you have any questions or concerns during your healing process.
Achieve the Skin You Desire
If you want smoother, more youthful skin, laser resurfacing can help. Visiting a trained professional can help you achieve the skin you desire. Contact your local skin care expert if you're interested in laser skin resurfacing.