Stubborn fat can be frustrating to deal with. If you're struggling with a problematic area, your local cosmetic expert can help. CoolSculpting is an effective way to target fat without needing surgery.
If you're interested in CoolSculpting, are its results permanent? Continue reading to learn more about CoolSculpting, including if you can expect permanent results.
What is CoolSculpting?
CoolSculpting is a treatment method for reducing fat in certain areas. The actual name of this treatment is cryolipolysis (fat freezing), and it involves the use of freezing temperatures to target stubborn fat that doesn't respond to diet and exercise.
CoolSculpting is non-invasive, meaning there are no incisions required. The freezing temperatures used in CoolSculpting help break down fat cells. If you have fat in your arms, thighs or another area, this procedure can help.
What Areas Can CoolSculpting Address?
According to Health Canada, there are 9 areas CoolSculpting can treat. This procedure can address unwanted fat in the following areas of the body:
Abdomen
Flanks
Inner thighs
Outer thighs
Chin
Auxiliary puffs
Bra fat
Buttocks
Upper arms
While the freezing temperatures used in CoolSculpting can help reduce fat in specific areas, how does this work?
How Does CoolSculpting Treat Fat?
CoolSculpting uses a controlled temperature to freeze fat cells. After applying an applicator to the chosen treatment area, it sucks in a portion of the skin into an applicator. You may experience pulling, pinching, coldness, tingling, aching or cramping, but these feelings will resolve as the treatment area numbs, usually after about 10 minutes.
After treatment is complete, your technician will detach the applicator before massaging the area to help break up fat cells. You may notice side effects such as redness, swelling, bruising, or general soreness, but these are only temporary.
Is CoolSculpting Effective?
CoolSculpting is an effective way to get rid of fat in specific areas of the body. The frozen, broken-down fat tissue leaves the body over several months. On average, someone can expect fat to decrease by up to 20–25%.
Another study found that CoolSculpting applicators are an effective way to reduce fat in several areas. A medical review of different studies related to CoolSculpting determined that this treatment can effectively reduce fat by up to 14–28%.
CoolSculpting is an effective way to reduce fat, but it isn't a substitute for traditional weight loss. This treatment is ideal for removing stubborn fat that isn't responding to exercise and diet. While this procedure is effective, is it safe?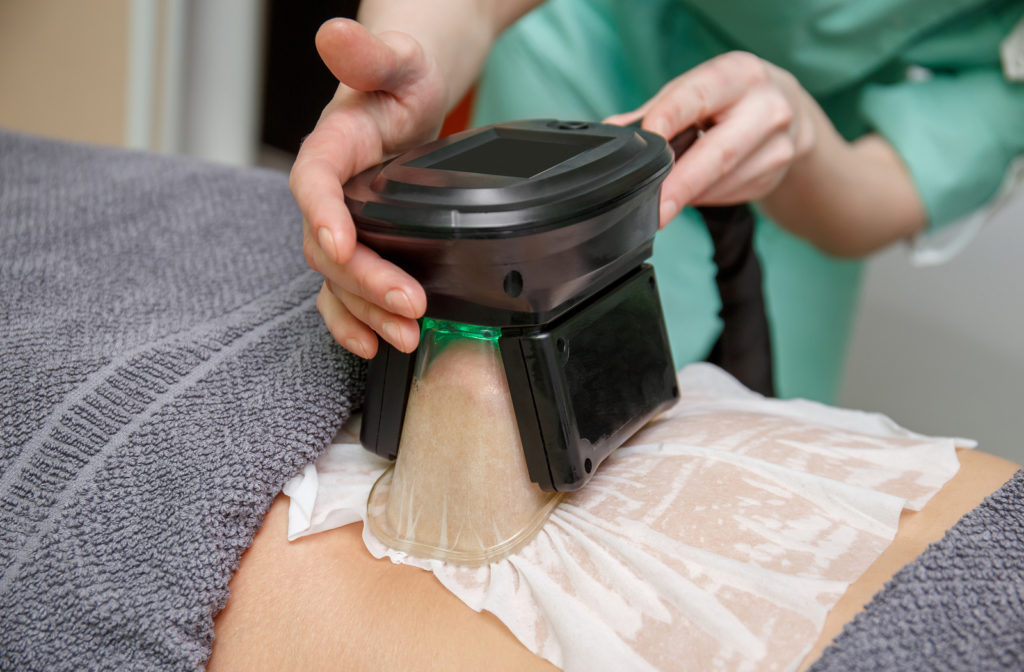 Is CoolSculpting Safe?
It's understandable to question the safety of CoolSculpting—freezing temperatures can damage your skin. However, fat freezes at a higher temperature than your skin. Because of this, CoolSculpting temperatures cool fat without causing damage to your skin.
Another benefit of CoolSculpting is that it's non-invasive, meaning it has fewer risks than other procedures. There is no anesthesia, medications, or incisions required for CoolSculpting.
While no procedure is free of any risks, CoolSculpting is a safe treatment. There is no risk of bleeding, scarring, or changes in skin pigmentation, and previous research discovered that fewer than 1% of patients reported adverse effects.
There is the possibility for minor, temporary side effects, such as:
Less sensation in the treatment area
Swelling
Bruising
Sensitivity
Redness
Discomfort
You can feel confident that CoolSculpting is a safe procedure for you to have. Your treatment provider can explain this procedure in-depth and address any concerns you may have during your initial consultation. If you're interested in CoolSculpting, are its results permanent?
Is CoolSculpting Permanent?
CoolSculpting is a great way to reduce fat and does offer permanent results. Although this treatment can't prevent new fall cells from developing, maintaining a healthy lifestyle is the most effective way to maintain this treatment's results.
Ideally, someone receiving CoolSculpting will have extra fat in specific areas but are overall healthy. An initial consultation with a certified technician is the best way to determine your eligibility for this treatment. If you're looking for ways to keep your skin tight and defined, your treatment provider can recommend additional, complementary procedures.
Additional Treatment
After addressing stubborn fat with CoolSculpting, looser skin is a possibility. If you're looking for tighter and more toned skin, there are other treatments you can pursue. Evoke, Evolve & Morpheus8 treatments that can tighten the skin in various areas as well as Laser Skin Tightening.
Evoke
Evoke is a non-invasive treatment for facial remodelling and rejuvenation. This treatment sends bipolar radiofrequency (RF) energy deep into your skin. The goal of Evoke is to promote collagen production to help remodel and define the skin around your neck, chin, and jawline.
This treatment can:
Create a smoother skin texture
Tone & tighten the skin
Promote a youthful appearance
Evolve
Evolve is a hands-free technology designed for tightening skin and toning muscles. Using RF waves, the Evolve system has 3 technologies to help each person achieve their unique needs. This treatment applies gentle heat into the skin, killing fat cells while boosting collagen and elastin production.
There are 3 customizable technologies associated with Evolve to treat the thighs, abdomen, arms, and buttocks:
Book a Consultation
If you're unsure about CoolSculpting, have a complimentary consultation. You can speak with a trained specialist about your questions, concerns, and goals. They can create a customized treatment plan to help achieve your desired results.
Contact your local expert if you're interested in CoolSculpting, Evoke, or Evolve.