Plucking, waxing, and shaving hair can be a time-consuming process. For longer-lasting results, laser hair removal is an option. With help from a professional, you can target unwanted hair while lessening the need to shave.
If you're interested in laser hair removal, how many sessions does it take to achieve your desired results? Continue reading to learn more about laser hair removal, including how many sessions you require and what to expect during your appointment.
What is Laser Hair Removal?
Laser hair removal can help address hair that is growing where it isn't wanted. The process involves using a laser beam to treat hair directly at the follicle to prevent or delay future hair growth. If a full series of treatments are completed at the appropriate intervals, results may be long lasting and/ or permanent!
The Benefits of Laser Hair Removal
Professionally completed laser hair removal can effectively address unwanted hair in different treatment areas. Laser hair removal can target hair in the face, legs, chin, arms, and bikini line, reducing hair with precision, speed, and predictability.
A person of any skin or hair colour can benefit from laser hair removal. Most patients experience a 90% reduction in hair growth after treatment. If you're interested in laser hair removal, how does this procedure work?
How Does Laser Hair Removal Work?
Laser hair removal involves using a high-heat laser beam to heat and damage the hair follicles resting underneath your skin. Damaging these follicles can prevent future growth.
Laser hair removal is effective, but the hair in the treatment area may not completely go away. You may need multiple treatment sessions to achieve the results you're looking for.
How Many Sessions Does Laser Hair Removal Require?
Damaging hair follicles delays hair growth for long periods. Hair may continue to grow in that area, but it is usually lighter and less noticeable. Depending on your desired results, you may need multiple treatment sessions.
Laser hair removal usually takes between 6–8 treatments to achieve the intended results. The number of appointments you need can vary based on your skin tone and hair colour. People with lighter skin and darker hair usually see faster results.
Your laser technician can give you an accurate estimate during an initial consultation.
What to Expect With Laser Hair Removal
Laser hair removal can be a beneficial way to address unwanted hair, but only when done by a certified professional. When seeing an expert, you can expect to complete an initial consultation to discuss this procedure and ensure you understand its risks and benefits. Your laser technician will compile a laser hair removal program based on your needs.
Here's what to expect during the laser hair removal process:
Before Your Appointment
Before the first round of treatment, you'll have a consultation where you speak with a certified laser technician. This discussion will cover your medical history, the risks and benefits of laser hair removal, and your expectations and desired results.
Additionally, your consultation will cover the steps you need to take to prepare for your appointment. These steps may include:
Staying out of the sun
Avoiding other hair removal products
Avoiding blood-thinning medications
Shaving the treatment area before your appointment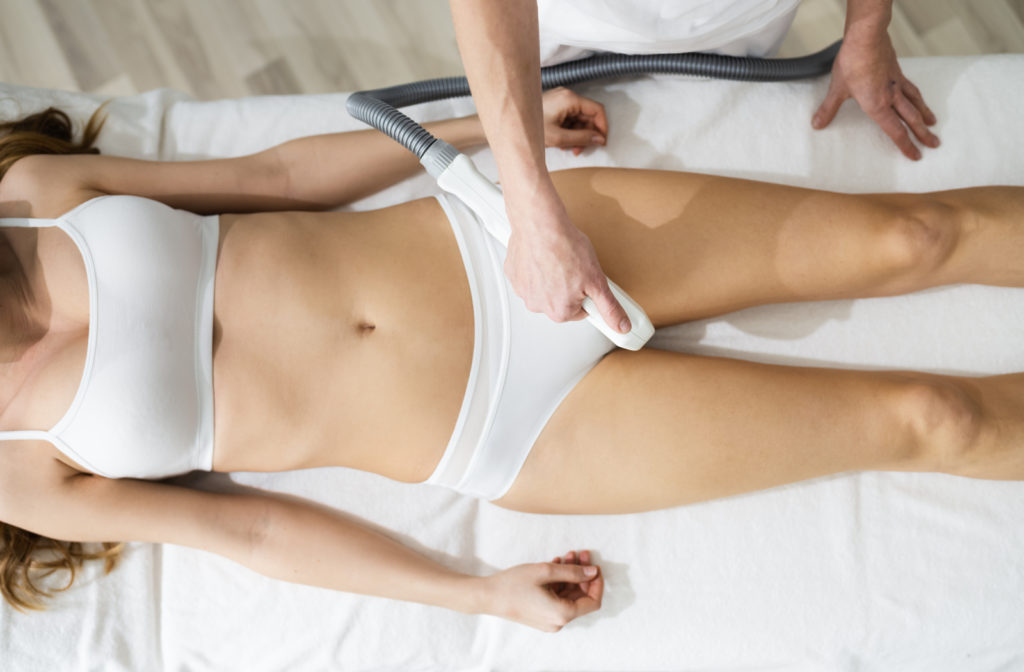 During Your Appointment
Your laser technician will aim the laser beam near your skin during the appointment. Receiving cooling air is common to help with comfort during treatment. You may experience slight discomfort as your skin warms during treatment.
As the laser beam passes through your skin, heat damages the hair follicles in the treated area, preventing future hair growth. The length of treatment can vary—smaller areas such as the face may take a few minutes, while larger sections may take up to an hour.
After Your Appointment
You may experience swelling or redness in the treatment area after your appointment. These side effects typically resolve within a few hours, and you can use ice to reduce any discomfort.
It may take several appointments to obtain your desired results. Visible results typically begin to show after a couple of days to weeks as your hair begins to shed.
It may seem like the hair in the treated area is still growing for the first week after treatment. However, it's more likely that the dead hair is pushing out of your skin. A gentle exfoliation on the area for roughly 10 days after the treatment can help.
While results are difficult to predict, speaking with your local expert can help you get an accurate estimate of how many treatment sessions you need. The waiting period between appointments can vary, but 4–12 weeks is typical for most patients.
Love How You Look
You deserve to love the way you look. If you have hair in unwanted places, your laser technician can help you achieve your desired results. No matter how many appointments you require, they are here to help.
Contact your local expert for a consultation if you're interested in laser hair removal.