Many people receive dermal fillers to help define their features and improve their confidence. While these products can be beneficial, it's important to understand what they consist of and the risks of receiving them. Before you call your treatment provider, what are dermal fillers made from?
Continue reading to learn more about dermal fillers, including how they work, the associated risks, and what materials are present in these products.
What Are Dermal Fillers?
Dermal fillers are an effective way to enhance your natural beauty. They can help fill fine lines and wrinkles without needing a traditional facelift. You can experience noticeable results in under 30 minutes.
Your skin requires 3 elements to stay healthy and firm: elastin, hyaluronic acid, and collagen. These elements work together to support your skin, keeping it smooth. Unfortunately, the support system created by collagen, hyaluronic acid, and elastin weakens with time, causing your skin to lose its firmness.
Your skin loses elasticity with age, but dermal fillers can help plump your skin. These products fill in the weakened areas under your skin, softening wrinkles and smoothing your skin. There are different dermal fillers available today.
Types of Dermal Fillers
Different dermal fillers can help you achieve your desired look. Your treatment provider can recommend the most effective filler based on your beauty goals, addressing the damage your skin experiences over time.
Some common dermal fillers include:
Teosyal®: Teosyal offers a variety of dermal fillers to help treat wrinkles, fill lips, & improve your natural look—it features resilient hyaluronic acid to keep your desired results no matter what you go through in day to day life
Restylane®: Restylane helps refresh your face by smoothing & revitalizing the skin around your face, chin, & neck
Juvederm®: Juvederm is a unique facial filler used to achieve a healthier and revitalized look—this filler treats fine lines & wrinkles, fills lips, & restores facial volume
Dermal fillers can help restore lost moisture and volume to a targeted area. This treatment can address several areas of your face. Depending on your needs, dermal fillers can help:
Add volume to the lips
Smooth eye-area wrinkles
Soften fine lines
Lift eyebrows
Lift & contour cheeks
Sculpt the jawline
While dermal fillers can help you achieve a more youthful and defined look, many people don't understand how these products work. If you're interested in receiving fillers, what are they made from?
What Are Dermal Fillers Made From?
Dermal fillers consist of materials the body can eventually break down and absorb. While all dermal fillers seek to add volume to targeted areas, the materials present in these fillers can differ.
The materials in dermal fillers include:
Hyaluronic acid: A natural substance within the body that acts as a cushion & lubricant in your joints & other tissues
Calcium hydroxylapatite: A mineral-like compound found within your bones
Polyalkylimide: A transparent gel that is compatible with your body
Polylactic acid: A biodegradable substance used to stimulate the skin for increased collagen production
These materials are present in different dermal fillers, helping address different signs of ageing. Your treatment provider will choose the appropriate filler to meet your beauty goals and desired results.
Are Dermal Fillers Safe?
Dermal fillers are safe to use overall, providing you with a more youthful look without the need for surgery. While dermal fillers are minimally invasive, there are risks involved with any medical procedure. Many side effects of dermal fillers appear and resolve quickly, going away within a few weeks.
Some side effects of dermal fillers include:
Bruising
Redness
Swelling
Discomfort
Tenderness
Itchiness
Rash
While rare, there is the potential for more significant side effects. You should be aware of these risks before proceeding with dermal fillers. These negative side effects include:
Infection
Leakage of the dermal filler through the injection site
Nodules around the injection site
An inflammatory reaction called granulomas
Movement of the dermal filler to a different facial area
Injury to blood vessels
Blindness caused by an injection going into an artery
Tissue death caused by an injection going into an artery
These side effects can cause significant health problems. However, these complications typically occur when receiving dermal fillers unsafely. The best way to avoid adverse effects is to receive treatment from a trained professional.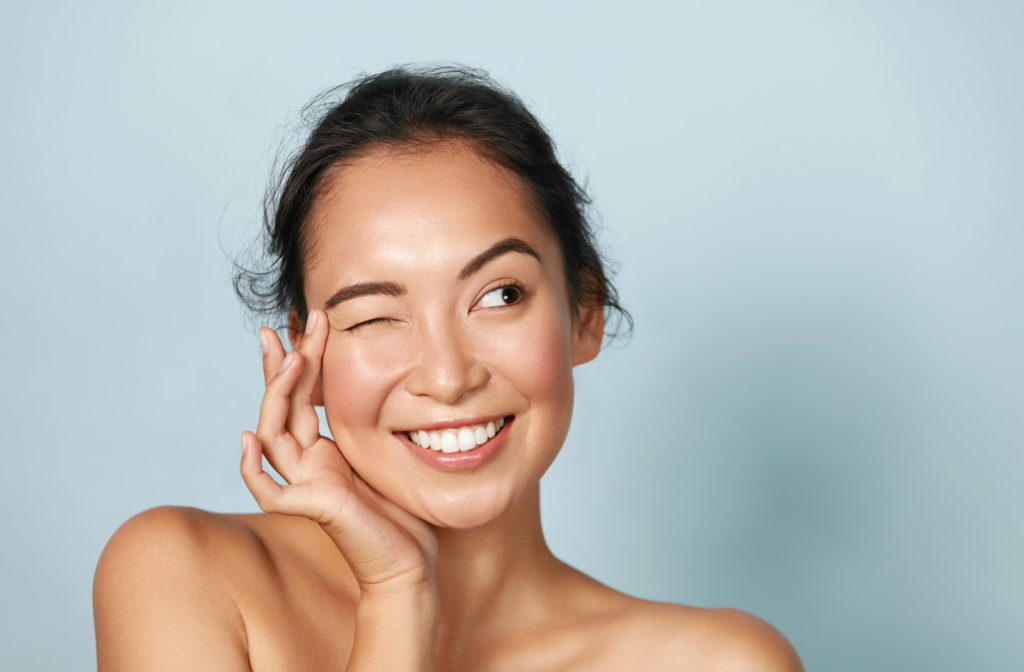 When Will You See Visible Results From Your Filler?
You should notice results immediately after your treatment finishes. You may have minor side effects such as redness or swelling, but your skin should return to normal within 24 hours. Afterwards, you can enjoy smoother and firmer skin.
How Long Do Dermal Fillers Last?
How long your filler will last depends on the product you receive, the chosen treatment area, and yourself. In general, an injection lasts longer the denser it is and the deeper it's placed.
Hyaluronic fillers tend to last the shortest, absorbing within 6–24 months. You can extend the results of whatever filler you receive by obtaining repeated treatments. Your treatment provider can recommend the best filler available to help achieve your desired results.
Dermal fillers are an effective way to define your face and address fine lines and wrinkles. With help from a certified professional, you can achieve a more youthful look. Contact your treatment provider if you're interested in dermal fillers.