Many changes happen to your skin with time. While these changes are natural, you may desire smoother skin. With help from a trained professional, you can achieve plumper skin in many ways.
Continue reading to learn more about how your skincare team can help you get plumper skin, including at-home and professional options.
The 3 Elements of Healthy Skin
Healthy skin isn't a coincidence; several components keep it looking firm and smooth. In particular, 3 substances in your skin are vital: collagen, hyaluronic acid, and elastin. Let's learn how each of these components benefits your skin.
Collagen
Collagen is throughout your body in your bones, muscles and skin. It's incredibly sturdy, being as strong as steel gram-for-gram. This protein gives your skin strength and elasticity.
Hyaluronic Acid
Hyaluronic acid is naturally present in your body to retain water inside tissue cells. It's a key factor in skin ageing; younger-looking skin generally has a larger amount of water.
Elastin
Elastin is a protein contributing to elasticity and resilience in your body, including your tendons, ligaments, and skin. Along with collagen, elastin is one of the main proteins critical for smooth and healthy skin.
All 3 of these components work together to protect your skin and keep it looking healthy. As you age, your skin can lose its elasticity and firmness due to collagen, elastin, and hyaluronic acid production slowing down. If you want plumper skin, how can you achieve this?
How Can You Achieve Plumper Skin?
Many people desire plump skin free of fine lines and wrinkles. While skin can appear more tired due to elasticity loss with age, there are many ways you can rejuvenate your look. If you want plumper skin, your skin care professional can help you achieve this with at-home or professional methods, such as:
Exercise
Laser resurfacing
Retinol products
Dermal fillers
Increasing collagen & hyaluronic acid intake
Exercise
Think of exercise as cleansing your skin from the inside. Physical activity is usually associated with a healthy heart and lungs, but it can benefit your skin. Moving your body helps increase blood flow, which nourishes your skin cells.
Blood carries oxygen and nutrients to cells throughout your entire body, and it helps remove waste from your system. Increasing blood flow through exercise can help flush cellular debris.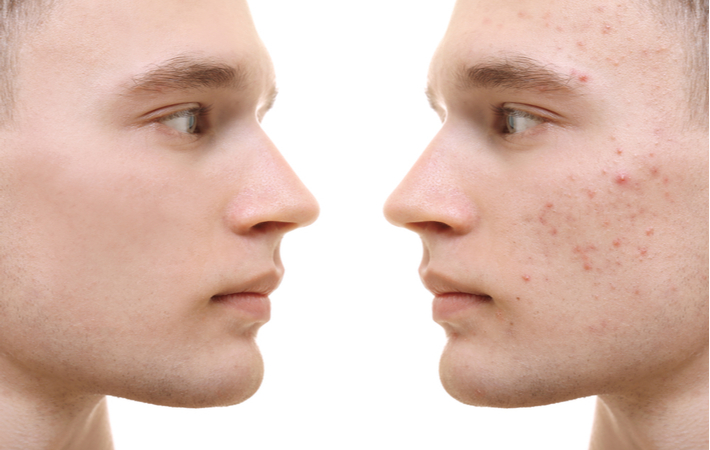 Laser Resurfacing
Laser resurfacing is a treatment designed to remove precise layers of skin. This procedure stimulates the growth of new skin cells, leaving you with tighter and healthier-looking skin.
Skin resurfacing can help reduce the appearance of:
Acne scars
Fine lines & wrinkles
Sun damage & age spots
Uneven skin tone
Uneven texture
This treatment can have a longer recovery period than others, but your skincare team can support you as you heal. Results tend to be gradual, but eventually, you will notice improvements in your skin quality and appearance.
Retinol Products
Retinol consists of vitamin A and typically comes as a topical product you apply directly to your skin. These products penetrate deep into your skin to help promote cell turnover and prevent collagen breakdown, a critical component of your skin elasticity.
Retinol can strengthen your skin and help retain moisture, helping your skin appear plumper while reducing signs of ageing. Another benefit of retinol is its ability to improve the appearance of uneven skin tone and texture. A 2017 study discovered retinol improves blood flow to the treated area, increases thickness in the skin's layers, and increases collagen and elastin expression.
Dermal Fillers
Dermal fillers can help fill lines and creases in your skin, acting as a volumizer. This treatment can help plump your cheeks, chin, jawline, and lips. Specifically, dermal fillers can:
Add volume to lips
Smooth eye-area wrinkles
Soften lines
Lift eyebrows
Lift & contour cheeks
Sculpt the jaw
This treatment is quick and safe; you can generally see immediate results. With help from a trained professional, dermal fillers can help contour, refine, and plump your skin.
Increasing Collagen & Hyaluronic Acid Intake
Collagen and hyaluronic acid are 2 components of plump and healthy skin, and you can increase your intake in several ways. Hyaluronic acid helps reduce wrinkles, increases skin firmness, and smooths your skin. You can find this acid present in different skin firming creams or supplements.
You can help your body's collagen production through your diet and supplements. Your body can't make collagen as effectively as you age, but you can boost collagen production by increasing the amount of protein-rich foods and vitamin C, zinc, and copper you ingest. You can benefit your skin by eating more chicken, fish, beans, fruits, grains, and vegetables.
If you want to use supplements, collagen peptides can help replenish broken-down collagen in your body. Home products like supplements can benefit your skin but speak with a trained professional if you have any concerns. They can determine the best ways to smoothen and plump your skin.
Take Care of Your Skin
While these methods can help you get plumper skin, protection is just as important. You should take care of your skin, even if you have no present concerns. Sun exposure has many benefits, but it can damage your skin if you're not careful.
If you want to maintain health and plump skin, remember to use sunscreen and avoid excessive tanning. Your skin can change with age, but your skincare team can help. A trained professional can recommend the best ways for you to achieve plump and younger-looking skin.
If you want to care for your skin as best as possible, contact your local skincare expert.