Acne laser treatment can help address an active breakout or leftover scars. While treatment is effective, are its results permanent?
Before you contact your skincare expert, learn more about acne laser treatment, including how it works and if the results are permanent.
How Acne Affects Your Skin
Your skin has small holes that can become plugged by oil, bacteria, dead skin cells, and dirt. These holes, called pores, can develop a pimple when this happens. You have acne when your skin frequently develops pimples.
You can develop acne anywhere on your body, but it primarily occurs on your face, back, neck, chest, and shoulders. You may have different types of acne depending on the severity of your condition.
Whiteheads
Blackheads
Red, tender bumps (papules)
Pimples with pus in them (pustules)
Painful lumps under the skin (nodules)
Painful, pus-filled lumps under the skin (cystic lesions)
What Causes Acne?
Acne develops when your pores become blocked with oil, dead skin, or bacteria during the release of sebum, an oil responsible for protecting your skin. Your pores open to a follicle, a mixture of hair and an oil gland. This gland releases sebum.
Sebum travels up your hair, out of your pores, and onto your skin to help keep it lubricated. Acne occurs when there are problems during this process. Your follicles may produce too much oil, dead skin cells may accumulate in your pores, or bacteria may build up in your pores.
Anyone can develop acne, but some people are more at risk. These risk factors include:
Hormonal changes during puberty & pregnancy
Side effects from medications such as birth control
High refined sugar or carbohydrate diets
Family history
Acne is common with teens, but it can continue into adulthood. This condition isn't a health risk, but it can feel painful and lower self-esteem. Acne can eventually scar and leave a permanent mark on your skin.
Acne Scars
Severe acne is the most likely to leave permanent scars, but picking and scratching at your pimples can increase your risk. Acne scars typically have 2 forms:
Scars with a small dip or depression
Deep & narrow scars
Acne scars can affect your confidence, but they are treatable. After acne is under control, laser treatment can address these scars.
What is Acne Laser Treatment?
Laser treatment helps remove lesions and reduce the appearance of scars with lasers. It uses short, concentrated light beams to remove layers of skin. The laser heats the underlying skin during treatment, stimulating collagen production.
Laser treatment can help reduce scars while helping new, smoother skin develop. There are 2 common types of lasers: CO2 and erbium lasers.
Both types of lasers use pulses of light to treat your skin, but erbium lasers cause fewer side effects. Erbium lasers cause minimal damage to the surrounding tissue in the treatment area. This laser has little to no side effects, while CO2 lasers can result in swelling, bruising, and redness.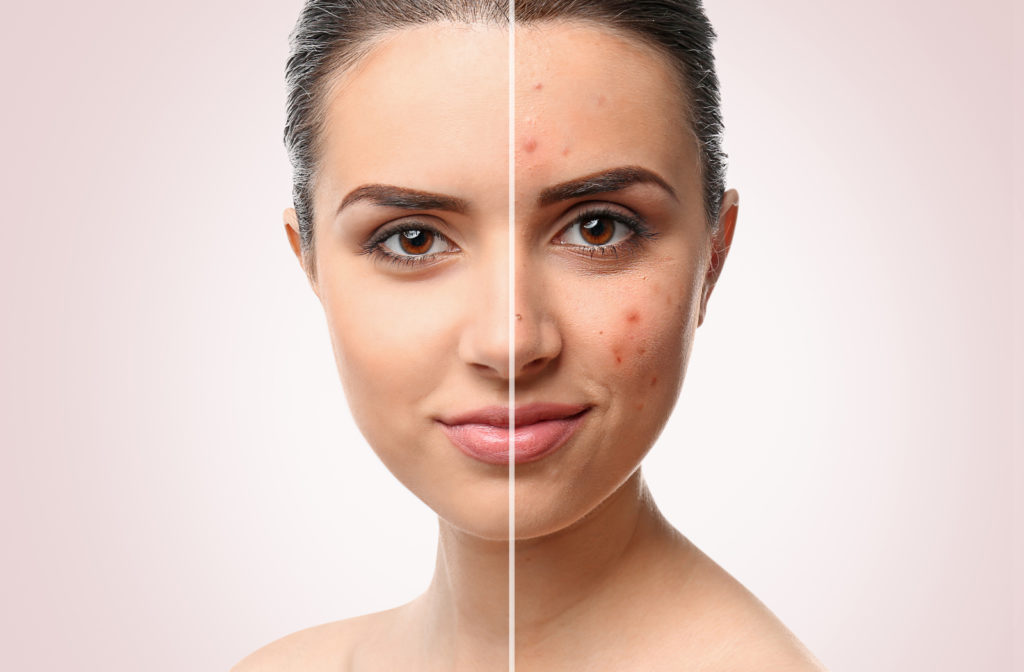 How Does Acne Laser Treatment Work?
Laser treatment can help treat active acne and acne scars effectively. The overall process is the same, but the laser targets these issues differently.
Active Acne
Laser treatment reduces the inflammation present during active acne while stimulating healing and reducing the risk of future breakouts. The laser penetrates your skin and treats the overactive sebaceous glands causing your inflammation.
The laser then helps promote collagen remodelling, which is important for long-term acne treatment. A 2015 study found this treatment can safely and effectively reduce inflammation.
There is usually little to no healing time required with laser treatment. The stimulation of collagen production can help the overall healing process.
Acne Scars
For acne scars, laser treatment gently and precisely removes layers of skin. The top layers of the skin absorb the erbium laser beam to remove scarred tissue and stimulate collagen production. Clinical research shows it's an effective treatment for a range of scar severity.
You may have a short healing period with acne scar treatment, depending on the deepness of your scars. You'll need to keep your skin clean and moisturized during this period. Avoiding wearing makeup can help during the healing process.
Acne laser treatment can benefit your skin, but how long do its results last?
Is Acne Laser Treatment Permanent?
The results of acne laser treatment can vary from person to person. Some people may need more sessions than others, depending on the treatment and severity of their condition. Results for active acne treatment are generally long-lasting but may require follow-up appointments.
Acne scar treatment uses skin resurfacing and is typically permanent. If you're curious about how long results last for acne laser treatment, speaking with a professional can help. You can discuss this treatment during an initial consultation.
Speak With Your Skincare Expert
With the right treatment, you can boost your confidence. Your treatment provider can help address active acne and leftover scars. You can learn more by booking a consultation.
Contact your local expert if you're interested in acne laser treatment.