Fine lines and wrinkles, sagging skin, and many other things can add to self-esteem issues, especially as we get older. However, if this is happening to you, you're not alone! Each year, millions of people seek out treatments to improve their appearance and minimize the insecurities they may feel about their facial structure and skin.
Over 7.7 million Botox injections were completed in 2019 alone, the highest number to date of cosmetic minimally invasive procedures. Soft tissue filler came in a close second with 2.7 million injections, and chemical peels next with 1.3 million.
What can be taken from these numbers is that we're on a continuous journey to be our absolute best selves. For many, looking great means feeling great, and with ongoing technological advancements, that's more possible than ever!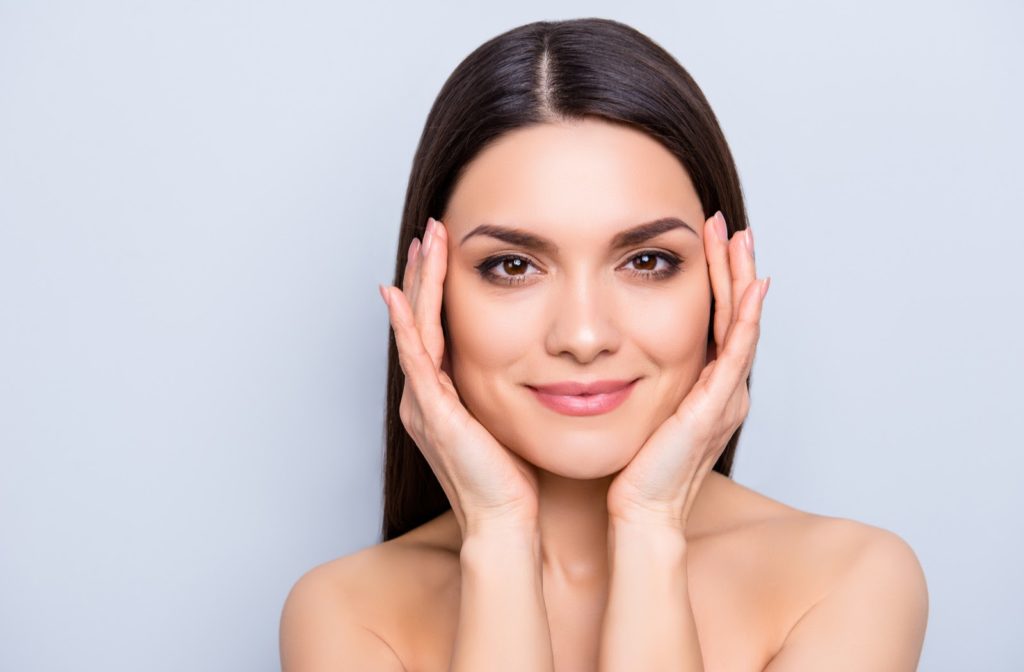 Benefits of Noninvasive Procedures
Surgical, invasive procedures are no longer the only thing available to help you achieve a more youthful appearance. Facial injections can give you the results you want with minimal downtime and discomfort, with some that can be completed in your lunch hour! If you're interested in smoother, tighter skin that you can feel proud of, facial injections can help.
Although nonsurgical procedures like injections may not give you the immediate dramatic effects of a more invasive procedure, they can be very effective at targeting:
Wrinkles and deep creases
Loss of facial volume
Skin tone and texture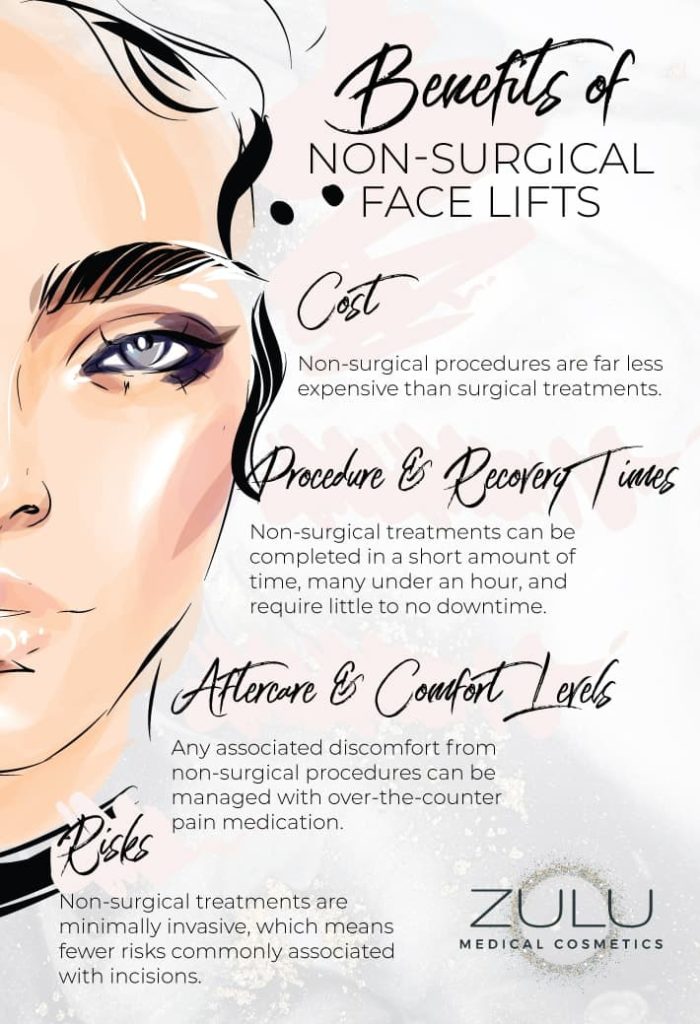 There are some other notable benefits to non-surgical procedures. These include:
Cost
Non-surgical or minimally invasive procedures are often a fraction of the cost of surgical treatments. A surgical facelift may cost thousands of dollars, where facial injections may only run you a few hundred.
Procedure & Recovery Time
Some procedures are affectionately referred to as "Lunchtime Facelifts" because they can be completed in under an hour and allow you to return to your regular daily activities directly after. However, not all non-surgical procedures are as forgiving, but when compared to surgical facelifts, the procedure and recovery time are significantly less.
Aftercare & Comfort Levels
If you go under the knife, you should expect to feel significant discomfort as you heal. With injections and non-surgical procedures, you can easily manage any discomfort with over-the-counter pain medication.
Risks
The absence of general anesthesia and large incisions means there are fewer risks involved with non-surgical facelifts.
Plus, skin laxity is only one component of the "signs of age." Premature ageing can also be attested to the loss of facial volume, which you can easily address with fillers and other injectables. A surgical facelift will not address the textured skin or fine lines that develop with age; non-surgical procedures will.
What Treatments Are There?
The best treatment for you will heavily depend on your goals and current health. If you're considering cosmetic procedures to enhance your appearance, it's always best to discuss it first with your dermatologist or doctor. They will help you decide the injectable or non-surgical procedure that will work best for you.
Some of the options include:
Wrinkle & Frown Line Reduction
If wrinkles are the telltale sign of ageing you want to reduce, injectable neuromodulators like Botox, Dysport, & Nuceiva are incredibly effective. All 3 are different brands of wrinkle treatments made from the botulinum A toxin.
When the toxin is injected into facial muscles, it has a temporary freezing effect, blocking nerve signals and muscle contractions. These effects subsequently reduce the appearance of existing wrinkles and slow the development of new wrinkles by preventing certain facial muscles' contraction.
Jawline Definition
For many, sagging skin coupled with excess fatty tissue under the chin can create a "double chin" effect that can be a source of insecurity. Belkyra injections are designed to eliminate excess fat under the chin to give your jawline a slimmer, more defined appearance.
The active ingredient in Belkyra injections deoxycholic acid, a substance that is produced naturally in the digestive tract to break down the fat you eat. When it's injected under the chin, it works to dissolve fat membranes, and then your body removes them naturally.
Wrinkle Reduction & Facial Volume
Dermal fillers are also a great option to reduce the appearance of wrinkles and add some lost volume to certain areas of your face. Fillers are injectable treatments involving a gel-like substance called hyaluronic acid.
The substance is injected beneath the skin to enhance cheekbones, jawlines, chin, lips and fill in deep wrinkles as well as contour the facial structure as desired. Common brands include Juvederm, Restylane, and Teosyal.
Your Journey to Radiant Skin
If you'd like to enhance your natural beauty and explore the world of cosmetic treatments, you should consider chatting with your dermatologist or physician. They'll know what treatments will be best for your skin type and goals so you can feel great in your skin.