In life, facial lines and wrinkles are inevitable and could negatively impact your self-esteem. Thankfully, there are many treatments a cosmetic physician can offer to help build your confidence. While a cosmetic procedure is not a requirement to looking and feeling beautiful, we have found that they can help our patients feel self-assured and comfortable in their skin.
You've likely heard of Botox, but Dysport is another minorly invasive injectable that can address any fine lines. Which option might be right for you? Let this serve as your guide to discovering which wrinkle treatment you may pursue (after speaking with a licensed practitioner).
What is Dysport & Botox?
Botox and Dysport come from the same source, botulinum A toxin, and are administered to address facial wrinkles, fine lines, and smile lines. These injectables can reduce the appearance of insecurities and limit the development of new lines.
Dysport and Botox work by temporarily freezing muscle contractions, and are non-permanent, metabolizing after roughly three months. If you seek continued care, a touch-up is required every three to four months. Both injections are nonsurgical treatments with quick recovery rates and patients typically see results within three to 14 days.
There are various similarities between Dysport and Botox, and a few differences as well. While both achieve similar results, there are distinct ways the injections react. A deeper dive into each treatment can help you to decide which injectable is the best option for your needs.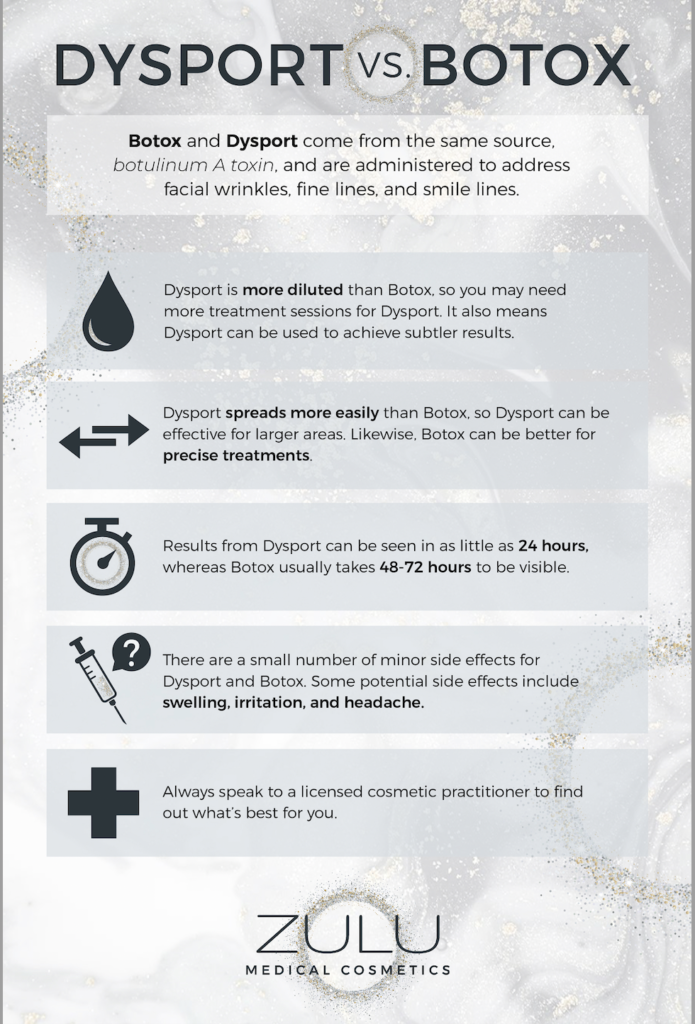 Dysport
Dysport treatments work to reduce the appearance of lines near the glabella (the area around the eyebrows). These wrinkles occur over time due to frowning and squinting, and may become a source of insecurity.
Dysport is used to reduce any frown lines without changing the overall look of your face. The procedure works by firming the face, which gives your skin a smooth appearance and slows down wrinkle development without removing your character.
You may expect to see results from a Dysport injection within 24 hours, and the injection diffuses easily, making the injection especially useful for covering large areas.
Botox
Botox treatments target the facial muscles responsible for creating wrinkles and lines on the face. The treatment is similar to Dysport, as it works to slow down wrinkle development by firming the face.
When the muscles do not contract, your skin appears smooth. This injectable effectively addresses any concerns regarding forehead lines, crow's feet, and medical conditions such as jaw tension.
Botox can begin working within 48 hours of the initial injection, and visible results may appear after seven to 11 days. Like Dysport, this treatment is not permanent and can last for up to six months.
Dysport and Botox are similar in many ways. They are primarily used to firm the skin's appearance and can provide you with results to boost your confidence and self-esteem.
If you're interested in cosmetic treatments, a conversation with a licensed practitioner can help determine the best option for your needs. If you're on the fence about which treatment you'd like to pursue, the following may help you decide.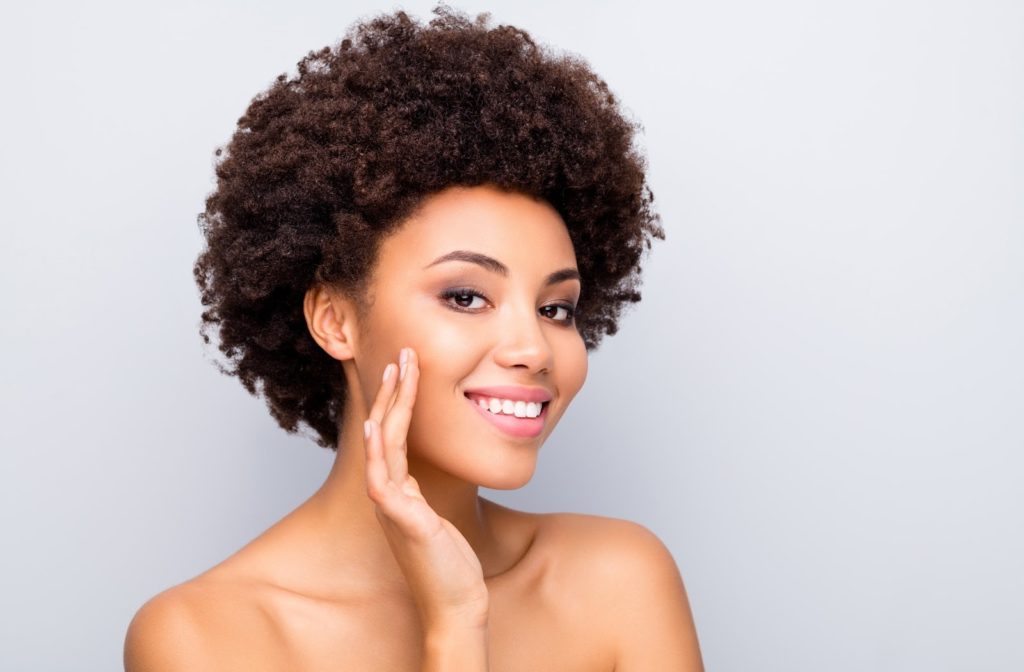 Which Treatment is Best?
The short answer is neither; There is not a distinctly superior treatment you should seek. The ultimate decision comes down to your preference or your cosmetic practitioner's recommendation.
There are a variety of similarities between Dysport and Botox, and a few key differences.
Key Differences
Some of the key differences between Dysport and Botox include:
Dilution
Diffusion
Onset
Side effects
Dilution
Dysport is more diluted than Botox which means you may need to seek out a greater number of treatments to achieve similar results to Botox treatments. This also means Dysport can be used to achieve more subtle initial results.
Diffusion
Diffusion refers to how widely something can spread. Dysport diffuses effectively throughout the injection area, so the treatment can be useful for treating larger affected areas. This also means Botox may be more suited for treatments performed on smaller areas requiring precision.
Onset
Dysport has Botox beat in this category, as it may only take 24 hours to see visible results after a Dysport injection. On the other hand, it may take roughly 48 to 72 hours for Botox treatments to begin working.
Side Effects
There are a small number of initial side effects you may experience from either treatment.
Dysport
Minor discomfort at the injection site
Swelling
Irritation
Headache
Botox
Redness
Swelling
Discomfort
Bruising
Headache
These side effects are minor and you may not experience them at all. If you're interested in a cosmetic treatment but have questions or concerns, speaking with an expert can help you reach any goals.
Your Path to Confidence
You deserve to feel comfortable and confident in your skin. If you're considering treatments such as Dysport and Botox, speak with a licensed cosmetic practitioner. An experienced and qualified team can discuss and identify the best treatment options for your individual needs.